Now, as much as I dislike Aussie rip off merchants rockers Wolfmother, this posting is not brought to you in malice, but with the simple aim of raising awareness of a crippling new physical condition that deserves our understanding and support - Dodgy Rock Leg Disorder (or DRLD).
In what is a bittersweet 'victory' for the National DRLD Association, Wolfmother's lead singer and guitarist, Andrew Stockdale, is a chronic sufferer of the disorder, something which has gained DRLD national exposure in recent months.
The main symptom of the disorder is an insatiable desire to lift one's leg at odd moments, effecting what is often described as a "faux rock" pose.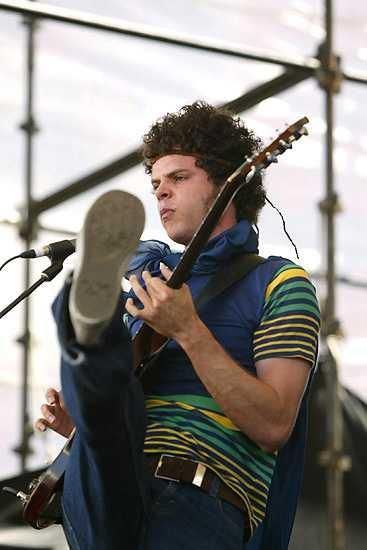 Andrew Stockdale in a particularly debilitating moment at the Big Day Out.
Photo source: http://www.smh.com.au/ftimages/2005/01/27/1106415711784.html
Sufferers are often subjected to humiliating abuse from members of the public and are accused of "trying too hard" when on stage or playing a musical instrument.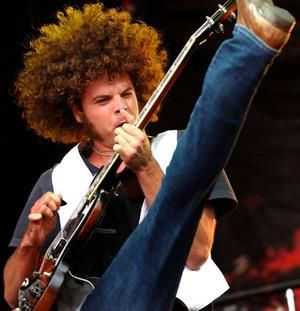 This photo clearly shows Stockdale suffering under the effects of the disorder.
Photo source: http://www.theage.com.au/news/music/fans-just-go-with-the-fro/2006/01/29/1138469606447.html
Despite DRLD being a relatively unknown disorder, support group numbers are growing as awareness of the affliction increases. Sufferers like Stockdale regularly attend meetings where they can learn how to manage their symptoms.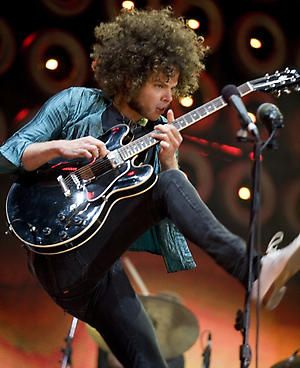 Stockdale's symptoms have noticeably lessened since he started attending his local DRLD support group. "Now I don't always feel the need to lift my leg the whole way up," he said.
Photo source: http://www.abc.net.au/triplej/gallery/homebake2004/html/photo8.htm
One of the most difficult parts of the disorder to manage, says Stockdale, is that it can manifest itself both on and off stage.
"If it happens on stage, at least I can make it look like I was MEANT to do it, you know. Especially if it happens on a power chord," he said.
"But it's really annoying when I'm just down the shops or something, and suddenly I'm kicking over magazine stands or kneeing someone in the back. It's really embarrassing."
Stockdale in the grip of a DRLD episode backstage.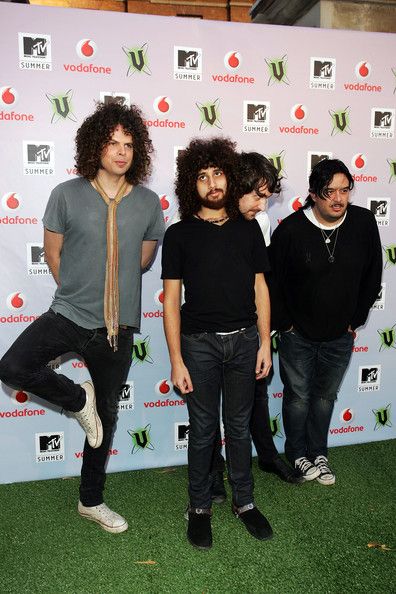 An all-too-frequent DRLD episode on the red carpet.
Stockdale has taken to natural therapies like yoga to treat his DRLD.
Now Stockdale has been taken on as the national face (or leg) of DRLD, his Wolfmother bandmates are joining in the support.
"We hope to start up a National 'Shake A Leg Day' or something like that," said bassist Chris Ross.
"The slogan could be 'Help the NRLDA - or they won't have a leg to stand on," said drummer Myles Heskett.
Rock on, boys.
NOTE: this posting is entirely fictional, and the author bears no ill will to Stockdale or the rest of
Led Zeppelin
Black Sabbath
Wolfmother.