Three down, 9 to go, and it should be fairly easy to kick at least one more Idolite out after tonight's show, which is cryptically titled "The Year You Were Born".

No, not the year YOU were born, dear reader, that would be silly. Of course they mean the years each of our Idols was born. So they really might as well have made it an 80s night.

Anyway we kick things off with Irish sensation Damien Leith, who tonight bears a striking resemblance to Leisure Suit Larry.


Aye begorrah, to be sure, to be sure

Since Idol's resident style guru Sheridan Tyler showed him the wonders of the black jacket and white shirt combo in the second semi final, Damien just hasn't looked back, wearing it on every possible occasion since then (and possibly to bed as well). If you looked in his Idol wardrobe I'm sure you'd find a series of plastic-wrapped black jackets and white shirts to see him out until the final episode (where he would then don the special black-velvet-with-ebony-sequins number for the Opera House performance). Tonight however, Mr Leith has turned the tables on us in SPECTACULAR fashion - teaming a WHITE jacket with a BLACK shirt. Those Irish! So innovative.

We learn that Damien's birth year was 1976, and the nation holds its collective breath in anticipation of the potential horror that could be a pale, skinny Irishman singing Starland Vocal Band's Afternoon Delight, or Hot Chocolate's You Sexy Thing. It turns out he's chosen Elton John's Sorry Seems to be the Hardest Word, and comes up with a honkier-than-honky white man's funk version of it. It's clear he's struggling to find the funk within as he sings "What do I have to do to make you love me" - don't worry Damien, we're all wondering the same thing. We'll let you know if we work it out. His weird attempt at a few dance moves, which ends up looking like a girly sort of skip across the stage, only succeeds in leaving him a bit breathless. Luckily he's got his marvellous falsetto to save everything - oh wait, no he doesn't. We're all bored with that, I forgot.

Overall the performance is underwhelming. Actually, it's just a bit sad. He's like an over enthusiastic groom who's taken six weeks of vocal lessons so he can sing You are So Beautiful to his bride at the wedding reception, but all people can say is "Aww, he's practised SO HARD for this."

Holden says it was lame, and that he almost got the Goonie Goo-Goo-ometer back in to check Damien's performance. Clearly he has traded in the Idol calculator he's used in previous episodes for better technology. Marcia says she admires Damien for choosing a song so steeped in tradition, and the rest of us wonder what tradition she could possibly be referring to - the opening anthem for the AGM of the Elton John Appreciation Society, perhaps? Then she gives his ego a real boost by saying no matter how he'd arranged the song, the judges would have dogged him for it. Kyle says it "reeked of Kerri Anne Kennerley" and was something he'd expect to see on daytime TV. Damien denies the allegation, while making a mental note to cancel his appearance on 9am with David and Kim next week.

Next we have plastic sensation Ricky Muscat. We start with a video of his mum telling us all about "when Ricky was a baby" over a montage of baby photos, one of which shows a naked little Ricky with a little Ricky dicky in centre shot. THANKS mum. Back in the audience, Amanda Streete takes one look and quietly folds away her "SHOW US YOUR COCK, RICKY!" poster into her studded leather handbag.

Tonight, Ricky has chosen Men At Work's Land Down Under from his birth year of 1983. Fairly appropriate, considering we've all just seen Ricky's land down under. He's taken a page out of Damien's style guide (and therefore ruining it, as it only had one page in it anyway, and that said "BLACK JACKET, WHITE SHIRT") and worn...do I really need to say it? A BLACK JACKET AND A WHITE SHIRT, LORD HAVE MERCY UPON US ALL. He's also obviously been taking stage lessons from Mutto, as he seems to have perfected the Bono crouch, but the crazy eyes have made a reappearance. Oh well - you can't have it all. Unfortunately it's all over before he gets to sing the line about "chunder", but we should probably be thankful for that.

Marcia gives an incredibly insightful appraisal of his performance, saying it was kinda strange but great. Holden says it reminded him of the last call at the Upper Widgibulgari. There is silence. A tumbleweed rolls across the stage. Kyle says it was a shocking song choice, it was the lamest song ever, and he hopes he'll never hear it again as long as he lives. Ricky complains about the lack of good songs in 1983. Um, like Billie Jean, Every Breath You Take, Beat It...what about AFRICA for fuck's sake? Can't you just see Ricky doing Toto? Well I can, and it'd be brilliant.

Anyway moving on to desert sensation Jessica Mauboy, who was born in 1989. I know, I know - I'm freaked out too. Just breathe. Again we get to see some baby photos, while her mum explains how she played Jess Roxette and Madonna as a baby - what, no Whitney Houston? That's practically child abuse.

Jess picks the Brandy version of Phil Collins' Another Day in Paradise - clearly this sort of year jumping (ie: cheating) is allowed, as no one calls out "Guards - seize her!". But why would you when she looks so cute? A pearlised gold fitted jacket with blue jeans and a black t shirt - she looks bloody fabulous. Whoever is responsible for getting her out of K Mart's "Girl XPress" section deserves an OAM. But truly, this song sucks. I've never heard the Brandy version but I suspect this song could be the reason no one's heard from her since 1989. Jess also seems to have no idea what she's singing, beaming her way through lines like "She's got blisters on the soles of her feet" like she's ordering an ice cream sundae. I'm so disturbed I am driven to the kitchen to get out my tin of Hello Panda biscuits. I know - I didn't think you could get them in tins either until I saw them at the Chinese supermarket! A big old tin! Anyway.

Holden says she was struggling, although he loves the way she sits right in his pocket. Or the pocket. Or something. Marcia comiserates with her having a scratchy voice - where the HELL are these Idols living? The cold and flu ward of Sydney Royal? Every damn week someone's got a bloody cold. Quarantine them, for god's sake! Kyle says it was just shit. He actually says shit. And nobody bleeps it out. Apart from getting to see Ricky Muscat's wang, this is the most exciting thing that's happened all episode.

Hold onto your hats, it's unique sensation Bobby Flynn, who surprises everyone by having been born in 1981. Am I the only one who thought he was like, 35? Bobby's mum craps on about how when Bobby was a baby, strangers would stop her in the street and comment on how much style he had. Look - we know he's UNIQUE, but let's not take the piss, alright?

He's singing Queen and David Bowie's Under Pressure, and he strols out on stage in dapper grey suit pants and a matching waistcoat with a red tie and DEAR GOD WHAT IS THAT ON HIS FACE?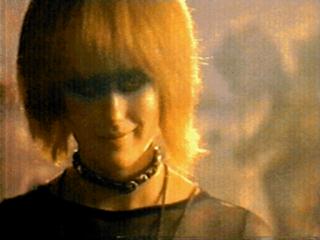 Prissy Flynn

Yes - it appears Bobby has gone all glam-rock, channeling Bowie, Sideshow Bob and Darryl Hannah in Bladerunner all at the same time, painting a big grey stripe across his eyes for this performance. We can almost hear Sheridan Tyler gnashing his teeth backstage while a Maybelline makeup artist screams "Where the FUCK is all my charcoal eyeliner?!" For the second week in a row everyone is convinced Bobby is trying to take a dive in the strangest way possible, so that when he finally gets voted off he can say "It's the Australian public man, they just weren't ready for my makeup fetish." I think Bobby does a good job of this song, but to be honest - I'm too distracted by his crazy hair and THAT STRIPE ACROSS HIS FACE.

Holden says he's "so out there" and asks him to come back in because he'l catch the death of cold. Marcia tells Bobby he's "so cool" and then asks him if he'd like to go to the school dance with her. Kyle reveals he's been doing surveys on the street about Bobby, and that people either reckon he's "a full mong" or "one of the biggest stars in the world". Kyle seems to think this split is a good thing.

No one mentions the crazy makeup.

Then it's on to shuffling sensation, Lisa Mitchell. She was born in 1990 (I KNOW - be calm, think of a happy place). Her parents reveal that she was "quite good at hand actions" when she was little. Obviously she never mastered any others, as once again she's back on stage, shuffling about. If they attached a few Chux to her shoes they'd get that stage gleaming in no time.

She's used some crazy Idol loophole to sing Steve Miller Band's The Joker. We all know it will be a perfect choice for her ooky, kooky voice and lack of stage presence, and will be a perfect one for her to shuffle through. Dressed in what looks like the kind of outfit you wear to paint your house, she slumps on the edge of the stage so no one can criticise her for not dancing. "Some call me the gangster of love" she warbles. Yeah, well some people call you FUCKING BORING, LISA. Not me though. I call you REALLY fucking boring. "I'm a midnight toker" she sings. Sure you are, Lisa. Although that WOULD explain the outfit. And the lack of movement.

Marcia says it's great to see her on stage looking comfortable. Hello? The only way she could get more comfortable would be if they dragged a recliner out there for her to slouch into. Holden says she took a bizarre song choice and turned it into a lot of fun. I must have missed the fun bit. Kyle says it was brilliant and cute, but the only thing he would suggest is ditching the $1.40 ballet slippers she wears every week. The only thing I would suggest is stuffing a rolled up sock into her mouth and sealing it with duct tape. Different strokes, I guess. We wind up the segment with a lovely shot of Lisa's cankles. Who knew she had cankles? I am strangely satisfied.

On to Sith Ifrican sinsation Dean Geyer, who was born in 1986. His mum says his most striking feature as a child was his "bug blue arse". Oh wait - "eyes". Not quite as interesting, really.

He's singing Bon Jovi's You Give Love a Bad Name, and he loses everyone on the first line. He's up there singing "Shot to the HEART and you're to BLAME" and everyone is yawning and looking at their watches. Even his failsafe stare-into-the-camera-and-make-everyone-drool manoeuvre isn't working anymore - perhaps he'd better think about showing us his big blue arse instead. We REALLY want him to get down on his knees in a full rock slide, but instead he busts out some very average air guitar with the actual guitarist, who is way more animated than he is. He finishes the song with not a hair out of place. Very UN rock.

Holden says he wants to see less "gorgeous angelic pure Dean", and more "down and dirty diabolical Dean". Funny, I think I HAVE seen that...somewhere on the internet... Anyway Marcia finally removes all doubt that she has lost her mind by announcing she doesn't know who Holden is. Then she asks what more anyone could want from Dean's performance. Just because it's a rhetorical question doesn't stop thousands of people yelling "ENTERTAINMENT!" at their TVs. Kyle sticks his groin in Marcia's face and tells Dean the virgin to go and have sex before singing a song like that again, because he needs to do more grinding. He tells him he should have been giving the audience lapdances. Gays around the nation log on to jetstar.com.au and start booking tickets to Sydney to be in the studio audience.

Next up we have bald sensation Mutto, another 1976ite. Oh to have been a fly on the wall when he and fellow 1976-er Damien Leith were deciding on their songs:


DAMIEN: I'M doing Elton John, OK? Shotgun, I said it first, I barsed it, it's MINE.
MUTTO: Um, ok.

Instead he pulls out a bit of Aerosmith's Dream On. And before we go any further here, can I say Mutto, PLEASE stop writing your shopping list on the back of your hand every week. We're not interested that you've run out of toilet paper back at the Idol ranch. The song sounds ok, but it's a very restrained performance, apart from his weird hip hop dance to the chorus - dude, we know Eminem did it, but that doesn't make you MC Mutto. He finally sinks the song with a failed high note at the end.

Holden says it's great to see him using the audience like the CHEAP WHORES THEY ARE. Great job. Marcia says it's good to see him working the room like a CHEAP WHORE. Great job. Kyle says it was an excellent song choice but he looks like a creepy old dude with 15-year-old hair. He describes Mutto's "hair art" as a perfect example of an old guy desperately trying to hang onto his youth. Kyle is such an expert in the field that everyone stops arguing.

And then it's Williams family sensation mark 2, Lavina Williams, born in 1979. Her mum reveals that she had always hoped Lavina would grow up to be an air hostess. It's nice to have goals.

Clearly Lavina has been raiding Reigan Derry's leftover wardrobe again, as she's wearing another disco milkmaid outfit. This time it's a camel number with a blakc satin ribbon lace up front. There's so much cleavage on show we're in serious danger of losing the judges and half the front row down her top, but fortunately she launches into the Bee Gees' Too Much Heaven and we can all relax. As always, she's fabulous. "You and me boy got a highway to the sky" she sings, pointing at her boyfriend sitting in the audience in his plastic Adidas tracksuit. "A highway? Awesome, I just put new suspension on the Skyline, sick!"

Holden says she was spectacularly good, and admits that at times during her performance he felt like Diana Ross. Then he screams "You took me so cloooooose!!!!" before moaning and falling off his chair. Silence. Tumbleweed. Marcia says she is beyond beautiful. She says Lavina is OK looking too. Kyle says sure she can sing, but her tatts are ugly. No one gives a shit what he thinks. Lavina for President.

And finally, we wrap up the evening (thank god) with Aussie bogan sensation, Chris Murphy, with a 1976 Eagles hit, Life in the Fast Lane. He jogs on stage like Jack Black in a black cowboy shirt with white stitching and black pants. He looks like a stagehand in one of those amateur theatre troupes that tours schools doing moralistic plays about smoking and bullying.

It's a perfect song choice for him, and he's clearly excited about - dashing about the stage and pulling faces. He's like an ADD kid who's forgotten to take his Ritalin, running over to the band, forgetting what he's there for, pretend kicking the drummer and running back on stage screaming "OWWWWWWWW!". Then he finishes by running almost completely off stage and jumping. Then he thanks the band and is censored by an inordinately long bleep noise, which I hope means that he said something like "I'D LIKE TO THANK THE MOTHERFUCKING BASTARDS IN THIS SHIT HOT C*NT OF A BAND, YEAH!" It's all so very rock.

Holden says he's a talented bastard. He says Chris is pretty talented too. (YES! Same joke twice in one entry! Snaps to me!) Marcia says it was one of the most exciting performances she's seen in that room. She neglects to mention what sort of performances she's seen in OTHER rooms. Kyle says he's consistently great but he needs to remove the "Jane Fonda elements" from his performance. So what - no more legwarmers and headbands? But they stop his ankles getting cold, you bastard!

I'm guessing it could be the Irishman's time to say "cheerio".