A couple of weeks ago we had a work experience kid in the office who, when asked what she'd like to be when she left school, replied "a fashion writer, but if I can't do that, then a fashion designer".

"That's nice," we all said (while secretly thinking "Enjoy your 10 years of writing up local council meetings, cops reports and five paragraph feature stories on the new local mural and eventual spiral into depression first!").

But then, we're cynical bitches.

She then told us that her three best friends wanted to be a forensic investigator, a doctor and a model-slash-actress (always good to keep your options open). It's good to know that kids still get their career goals from TV, isn't it? If only Channel Nine's Sea Patrol was a hit, kids everywhere would be lining up to join the navy.

The point is this: Every young girl who thinks they're pretty good at picking out a nice top at Sportsgirl thinks they could be a fashion designer.

I blame celebrities. I mean, when teenage role models are getting around dressed like this:


From gofugyourself.com

who DOESN'T think they could design something better?

So when I heard that one of the most evil, childhood-corrupting creations of the western world, Bratz, was running a fashion design competition, I was ecstatic.

"Oh goody," I thought, without a hint of internal sarcasm. "This competition will surely raise the standard of young female fashion and give new empowerment to young girls everywhere."

If you're unfamiliar with Bratz dolls, they're an inexplicably popular bunch of lollipop-headed, plastic totems of female repression, and this is the sort of fashion standard they currently set for girls aged six to 12: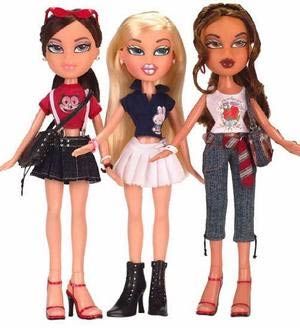 Putting the 'ass' in 'classy'.

Basically - if you have a head that's too big for your body, a vacant expression and dress like a hooker, give yourself a check. If you have don't have genitals, you could be a Bratz doll. Otherwise, you're Nicole Richie.

Bratz have recently launched the Passion 4 Fashion Design Awards, which gives budding fashion designers/fashion writers/forensic investigators/model-slash-actresses aged six and over the chance to get their crappy drawings displayed on the internet. And there's some sort of prize or something, I think.

It's not clear whether the winning entries will actually be made into Bratz outfits, although I'm hoping with all my heart that they will after seeing this one:


Ginger spice.

This is 18 year old Taryn's idea of a cool party outfit. Yes, 18. I thought 18 year olds only went to fancy dress parties so they could dress up as slutty nurses and French maids. Clearly Taryn stands alone in her love of baked goods.

If going to a fancy dress party as a giant piece of pastry isn't your thing, try these designs from 11 year old Chloe of NSW:


She's a brick house.

The perfect outfit for those "21st century disasters" themed fancy-dress parties, when you want to go as the twin towers. Fire, smoke and hordes of screaming people are optional extras.

She's also catered for those ever-popular "Mass comunication technology" themed parties, with this retro 1990s mobile phone design. Hot.


Ring, ring, why don't you give me a call?

Now meet 18 year old Anthony, of Melbourne: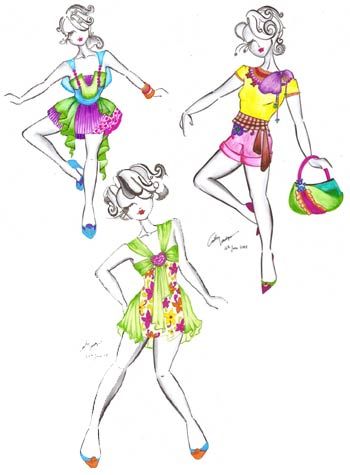 MY EYES, MY BEAUTIFUL EYES!

I think it's safe to say that Anthony is either gay, or on acid. Or perhaps both (hey, it worked for Andy Warhol).

If that's altogether a bit too much colour, 14 year old Karla from NSW has got you covered:



I have heaps of friends on Myspace.

An edgy up-and-coming young designer, Karla creates fashion for a very select market. Namely, half woman/half panda people with no hands, hooves for feet, and incredibly low crotches:


That's low.

18 year old Tessa proves you don't have to know how to operate a scanner to enter a design competition: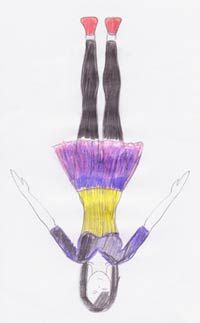 Just turn your monitor upside down, stupid.

While Nicole gets to the true heart of Bratz by creating an outfit for a transexual hooker:


Spot on, Nicole!

But when it comes to designing clothes for real women, it's clear that a bit of maturity goes a long way. Meet our oldest contestant, 25 year old Stacey from NSW. Yes, 25. That's right, she's 25 and she's entering a BRATZ DOLLS DESIGN COMPETITION. Just getting that straight.

Anyway, I think you'll agree she's Australia's next big design talent: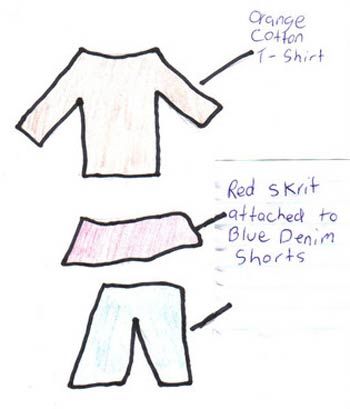 Wow.

Not only is her work edgy, fresh and innovative (a skrit ATTACHED to pants? Insane) but the attention to detail in her designs is simply mind-boggling.


Truly a creative genius.

She continues on a similar theme here, but keeps the look fresh by replacing the red skrit with a purple skrit with lace trim.


Sassy.

Not just a one trick pony, here Stacey shows her talent for accessory designing with a radical heart shaped belt buckle. This design also shows her affinity with colour, mixing pastel orange, green and blue in a combination sure to surprise and delight.

Lastly, Stacey shows a more adventurous side with her evening wear entry: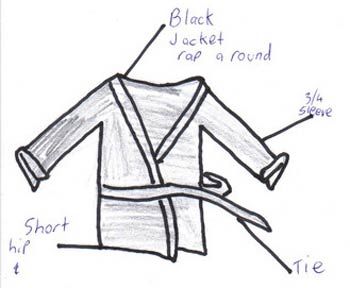 MC Jacket - it raps around.

This wrap around jacket/no pants combination is sure to be a hit with the fashion set - celebrities such as Britney Spears and Paris Hilton have already placed orders for theirs.