"Hey boss, we need to do something about our Friday night program line-up. It's just not attracting that lucrative youth demographic anymore."

"Hmm, I suppose all the young people go out on Friday nights and play Twister or knucklebones, do they? Hmmm. Well, what do young people LIKE?"

"Twister? Knucklebones?"

"No no, we need something MODERN and EXCITING. Come on, think!"

"Erm... the internet?"

"GREAT IDEA! Take all the cool videos off the internet that everyone's seen a million times already because people keep forwarding them the same fucking emails at work, and patch them together into a show. Then get three totally inane people to host it and throw in some canned laughter. RIPPER! I'm off to play Twister."

And thus Friday Night Download was born.

Did it ever occur to Channel 10 that the only people sitting around at home at 7.30 on a Friday night are a) old people, who can't stand Fitzy's dreadful accent or Bree's hyper enthusiasm and who certainly don't give a shit about the internet, and b) nerds with no lives who spend all their time on the internet and thus have already seen all these videos anyway?

These are some of the HILARIOUS, WACKY, TOTALLY CRAZY internet vids they showed off on the first episode. Hands up who HASN'T yet seen:


The folding Bangkok market on the train tracks



The Dove viral campaign



The Dove viral campaign parody



That Japanese toilet training video



That guy catching his sunglasses on his face



Little Superstar

EXCUSE ME, BUT IF I WANTED TO SEE A VIDEO OF A BREAKDANCING INDIAN MIDGET I WOULD HAVE GOTTEN IN A TIME MACHINE AND GONE BACK TO BLAND CANYON A WHOLE FRICKIN YEAR AGO.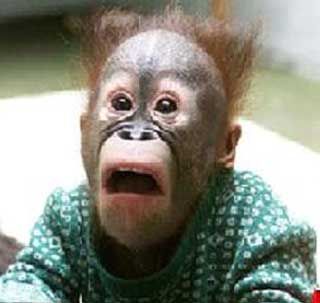 THEY HAVE VIDEO ON THE INTERNET NOW? Oh hang on, of course they do. Actually, some of those videos have been forwarded to me even more times than this fucking "surprised monkey" photo.

They even showed the Chris Crocker Britney Spears video - I mean COME ON! Even my grandpa's seen that one, and he still uses dialup.

It's likely this show is going to go gentle into that good night and no one will even notice, but I propose that if they're going to get axed, they might as well go out with a bang and show the video from two girls one cup dot com.*

*PetStarr recommends you never, under any circumstances, visit this site ever, ever, EVER. And if you must, CERTAINLY not at work. Or on a full stomach.