Firstly, loyal BC-ites, an apology: I'm sorry I haven't been posting all that regularly lately. Or actually, at all. I mean, I've only posted once since Idol finished. Normally I would put such an oversight down to slackness but no, this time I HAVE AN EXCUSE. I've been out every night buying all manner of goodies with which to kit out my lounge room - bean bags with in built cup holders, a blanket with "COUCH POTATO" written on it, a commode - in preparation for the AWESOME YEAR OF TELEVISION THE STATIONS ARE PROMISING US IN 2008. Or, more specifically, that Channel Nine is promising us in 2008.

That's right people, I AM TUNING MY TV TO CHANNEL NINE AND I AM NOT LEAVING MY LOUNGE ROOM FOR THE ENTIRE TELEVISION VIEWING YEAR. Except to go to work. And the toilet. Oh no wait, that's what the commode is for. Anyway, my point is - Nine has really outdone themselves this year with a stellar programming line-up. Not convinced? Their new ident should change your mind:



SMILE, SMILE, SMILE, SMILE, SMILE, SMILE, SMILE, SMILE, SMILE, SMILE, SMILE, SMILE, SMILE, SMILE, SMILE, SMILE, SMILE, SMILE, SMILE, SMILE, SMILE, SMILE, SMILE, SMILE, SMILE....

Did you catch that? Not annoying at all, is it? See, they're HAPPY over at Channel Nine, and they want you to be happy too. That's why they've stuck all the annoying stars like Jules Lund and Eddie McGuire and Tracey Grimshaw on that isolated sandbar and left them there. I FEEL HAPPIER ALREADY.

But why stop there? Let's take a look at some of Nine's inspired program line-up for 2008:

HOLE IN THE WALL



Otherwise known as "THE 'WE WANT TO BE YOU TUBE SOOOOO BAD' SHOW" or "THE 'OOH ASIANS - AREN'T THEY WACKY?' SHOW". At the Channel Nine season launch party the other night people were honestly wetting their pants over this program, declaring it "HYSTERICAL!" and heralding it as the great colourful saviour of variety television. I say if your idea of entertainment is watching Asians try to jump through a wall, your future probably lies in border security, not television. I've got three words for Channel Nine: Friday Night Download. And one more: Sucks.

MONSTER HOUSE

According to the PR guff, "Monster House is a reality sitcom series in which a cast of comedic actors pose as a fictional family and play hidden camera pranks on selected members of the public". If you can ignore the grammatical errors in that sentence, you will, of course, have only one reaction: PASS THE REMOTE, PLEASE. Of course, given that they've cast television veterans Glenn Butcher and Rebel Wilson in starring roles, any sort of "hidden camera prank" element on the unsuspecting public will probably be outweighed by a huge "what the fuck?" element as innocent members of the public wonder why former Full Frontal cast members are acting strangely in their supermarkets.

CASHMERE MAFIA



Now that you've finished cleaning the vomit from your keyboard after reading that schmaltzy title, I'll continue. Nine describes Cashmere Mafia as a sexy, sassy show about "four Manhattan women bonded by their Ivy League educations and executive success":

"Ambition always comes with a price, although fortunately for these high-powered females there's strength in numbers. With style, smarts and sex appeal, the Cashmere Mafia is about to bring sexy back to the boardroom — and no one is giving an inch."

They're sexy AND smart. GET IT? GET IT? Women can go to university, get a career, kick arse in the boardroom AND wear hot clothing. GET IT? It's femmo, but it's still got hot chicks in it. GET IT? I FEEL SO EMPOWERED - thanks, Cashmere Mafia.

I can see it now - four impossibly thin, gorgeous and wrinkle-free "30 somethings" all working in various "sexy" jobs (I'll take a punt and say PR, law, graphic design and a modeling agency), stalking around in impossibly expensive designer clothes and having rough sex with impossibly good looking men, after which they roll on their silk stockings, pop on their stilettoes and walk straight out to drink cocktails with their friends and bitch about small penises. GROUNDBREAKING. If only a BILLION other shows hadn't thought of it first.

Fortunately, Nine has another mafia to lean on if those chicks don't cut it...

UNDERBELLY



OK, all jokes aside (no, seriously) this Aussie version of The Sopranos does look very impressive. Vince Colosimo heads up a great looking cast in what looks like a very well written gangster drama about the Melbourne mafia. Nine is clearly hanging their hat on this program this season, so if Underbelly turns out to be shite, expect to see a few writers heading down to the Yarra in concrete shoes.

EXTRAORDINARY SEARCH AND RESCUE EMERGENCY ROOM FOR MISSING PETS

I don't think there is a hospital, vet, police station or emergency services unit in the country that hasn't had a Channel Nine crew bothering it at some point. Seriously, what is it with these guys? Not only do they already have Missing Persons Unit and RPA, this year they're adding Animal Emergency (delightful show where you can watch traumatised kids having the family dog put down), The Waiting Room (set in, you guessed it, the waiting room of a hospital, I'm thinking there's a touch of Hello, Goodbye about this one), Fire 000, Search and Rescue and RFDS Royal Flying Doctor Service. Next time you call triple 0 you'll probably get Eddie Mcguire.

THE BEST OF THE REST

Of course we can't forget such gems as Weddings - 10 Years On in which we get to revisit charming couples from 1998's Weddings , like Wayne and Stacey of Coolangatta who got married on the back of a ute and had matching mullets, to see how they're doing ten years on. My guess is I DON'T CARE.

Then there's The Irwin Family's Australia Zoo, in which we get to see "behind the scenes" with Bindi and Terri and find out exactly what they feed her hair to get it to stay on top of her head like that.

What about The Power of Ten, a wacky new game show in which contestants have to guess the exact percentage of a select focus group of people who answered a predetermined question in a particular zzzzzzzzzzzzzzzzzzzzzzz.

And there's I Know My Kid's a Star, a cheap reality show that attempts to keep feeding off the Jonbenet Ramsay murder by allowing us to be horrified at pushy stage parents, and which will probably be right up my alley.

And of course we can't overlook season two of Sea Patrol, Sea Patrol: The Coup. Actually yes, we can.

Hats off to you, Channel Nine. If it weren't for Ramsay's Kitchen Nightmares, I wouldn't watch you at all.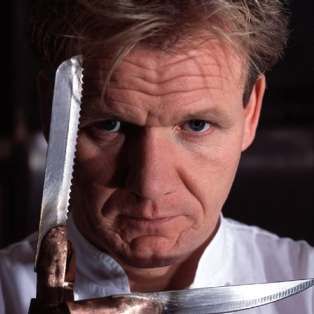 Gordon hits the editing suite to put the finishing touches on Cashmere Mafia.