To paraphrase Benjamin Franklin: nothing in life is certain except death, taxes and television shows about doctors, cops and lawyers.

Switch your telly on almost any night of the week, to any channel, at any time, and you're virtually guaranteed to catch a program based around one of the three professions. (Either that, or one will have just finished).

Take tomorrow night, for example – there are more law and order shows than you can point a taser at. There's Border Security (airport cops), Crash Investigation Unit (traffic cops), Bones (serial killer hunting cops), Heartbeat (cops with funny accents), CSI Miami (cops with expensive hairdos), Ashes to Ashes (sci-fi cops), Law and Order Criminal Intent (cops AND lawyers), 24 (terrorist hunting cops with cool computers) and COPS (cops cops).

That's nine hours of law related viewing in one night. People have stayed in jail for less time.

So it was more out of a sense of duty than desire that made me tune into the premiere of ABC's new Gen-Y legal drama Crownies the other week. I feel the need to support Australian-made series and besides, the ads made it look rather hip and raunchy, not at all your traditional wigs and gowns "objection, your honour" law-snore-fest.

Still, the thought niggled: "Do we really need another TV show about lawyers?"
As it turns out – no, we don't. At least, not this one.


One of Crownies' writers on a coffee break.

The show is meant to be set within the fictional "Department of Public Prosecutions", based on the real-life NSW Office of the Director of Public Prosecutions, and follows the lives of five, fresh-faced, 20-something solicitors who work there. And when I say "fresh faced", what I mean is "impossibly good looking". The three women in the group are so gorgeous they could have sprung from the cover of Hot Torts magazine. I know this is television, but come on ABC – a bit of realism would be nice.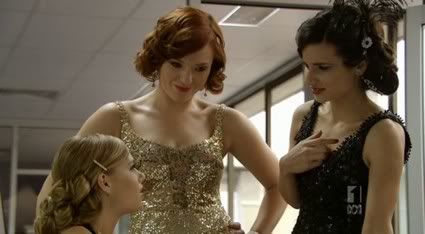 "Have you filed the latest notes on the Goldstein case?"
"Yep, right after I got my manicure."

Sadly, realism doesn't seem to be Crownies' strong point. I almost gave up on the show after the first seven minutes when I got bored of watching the doe-eyed 22-year-old legal assistant striding around the office in hot pants, suspenders and low-cut sequinned top. No really, it was all part of the plot – she was in fancy dress for the staff Christmas party that night. Because you would get dressed for that at work about five hours before it started, wouldn't you?

I persisted, but almost gave up again at the 15 minute mark when two other female lawyers joined her in a spare room and started discussing a murder case in red, lacy underwear. They were getting dressed up too, you see. All very normal stuff that happens in every office.

Most of them spent much of the first episode getting drunk and having sex in various places, in between firing off unbelievable dialogue about the gory criminal cases they were all working on, none of which were particularly interesting. How shocking! How Gen Y! How dull.

Next time, Australia, can we please have a show about a different profession like – oh, I don't know, journalists? Paper Giants was so good.

In the meantime, if you want to watch a show about 20-something lawyers struggling with life, love and work, get the DVDs of 1990s UK seriesThis Life – it definitely takes the crown over Crownies.

This article was first published in the Adelaide Sunday Mail's TV Guide on July 24, 2011.