Do you know how expensive it is to fly to Paris? It's a lot. I mean, more than $100 a lot. Do you know how expensive it is to fly 20 wannabe models to Paris, plus a TV crew and a bunch of celebrities? Foxtel does, and they're not about to let you forget it.

So welcome to episode 2, otherwise known as "Ooh la la, mon dieu, c'est Paris, baguette bicycle La Tour Eiffel croissant La Top Model Australienne".


Sadly (and somewhat surprisingly) they actually mean Paris, France, not Paris, Texas.
To make tonight's show more fun, I've invented a drinking game to go with it. Grab your nearest bottle of party juice and a shot glass, and hoover one up every time you see one of the following:
A French flag


A beret


A designer's name on the outside of a shop


The Eiffel Tower


A hungover man on a mobile phone
So they're all on the bus and, oh...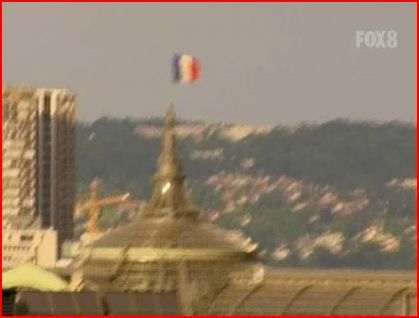 DRINK!
Gosh, didn't expect that to go off so quickly! Off to a head start there! OK, so they're on the bus and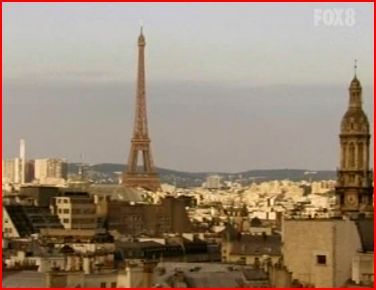 DRINK!
...er, and... so they're driving through Paris, and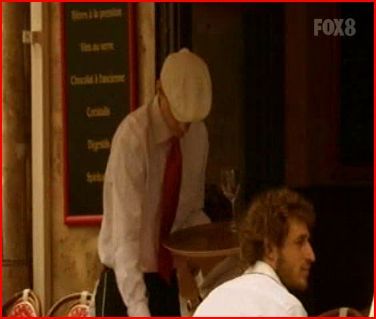 DRINK!
Ahem. Still with me? Right so they drive past the
DRINK!
Er...
DRINK!
Um...
DRINK!
Sigh.
DRINK!
Yes, yes, alright...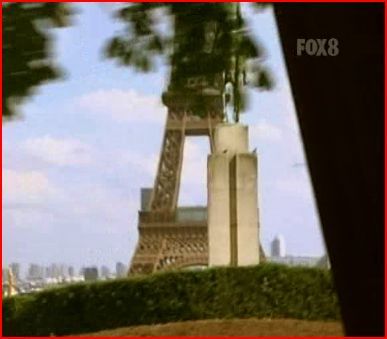 DRINK!
I said alright...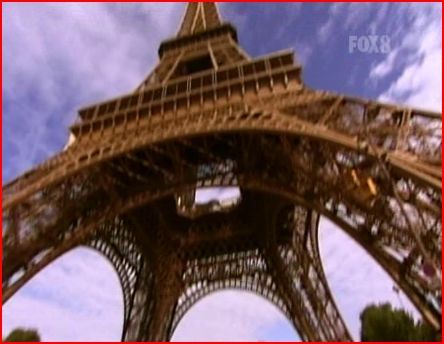 DRINK!
OK!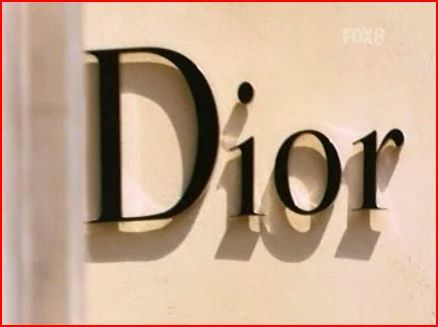 DRINK!
AAAAGH!
Oh for fuck's sake.
Now that I'm in a French-cliche-induced drunken haze, I can see that this year's crop of contestants are just rehashes of previous seasons' models, put together slightly differently. For example: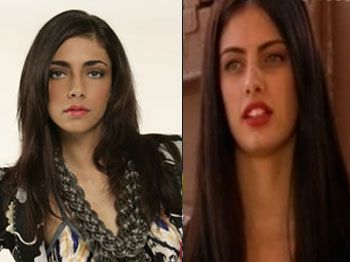 Caroline is just Samantha from series 5.
And this one, whoever she is, is just Caris from series five.
Neither of whom won, so. Good luck girls.
Anyway, all the modelettes check into some hotel we're supposed to be impressed by, even though they're all sleeping seven to a room, and go out of their tiny minds when they receive a Sarah Mail.
"IT WAS JUST LIKE SOMETHING I'D SEEN ON TV," hoots one.
Yes see, there's this show you might have heard of...
Clearly one show they haven't heard of is
The World Around Us
, as the message "tomorrow you'll need to be a tower of strength" sends a bunch of them into hysterics about "the tower of Pisa".
Just a hint, girls.
The next morning they... oh, for crying out loud...
If you have any alcohol left, drink.
So they're all at the Eiffel Tower and...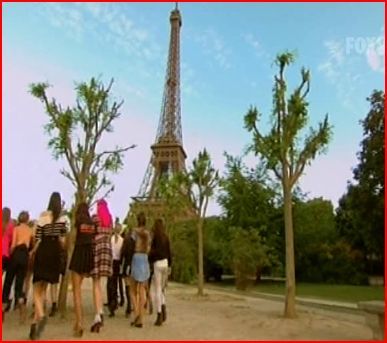 OK, I give up. Whatever you have left, skull it and let's move on.
"When I saw Charlotte next to the Eiffel Tower I was like 'what does this mean?'" says Amelia, 18, of Sydney.
Hmm, it IS a tricky one, Amelia, one that historians have been puzzling over for centuries. What DOES it mean? Perhaps we'll never know.
Except then Dawson tells us - they're going to the top of the Eiffel Tower for their first challenge.
There's a lot of OY MOY GOURD-ing as all the modelettes marvel at how the people look like ants, before one of them realises they're actually looking at ants and haven't gone up the tower yet.
Then Pezza turns up with some envelopes full of cash, chucks them at the group and tells them to go and find something to wear in two hours or else. Should be gruelling in Paris, a city not noted for its shopping opportunities.
Finding something to wear in under two hours challenge in a nutshell:
Inexplicably, everyone runs to the most boring store on the list, Gap, instead of going straight to H&M and buying everything in sight. This is because they are idiots.



Sorry, it's not H&M, it's "Haytch and M".



Meanwhile, I don't even understand why any of them NEED a fashion makeover.




What, you don't LIKE satin-trimmed chambray cowboy shirts? What's wrong with you?




And this girl continues to wear this hat, which annoys me.




She even wore it INSIDE.




Um, did I say Madeline was going to win?




I might be rethinking that assertion.
One bunch of girls is deemed more stylish than the other groups of girls, despite one of them wearing high-waisted stonewash denim shorts, and they go off to enjoy a lunch of air and sunshine with some model you've never heard of but whose name sounds like "Natalia Whaddyanova".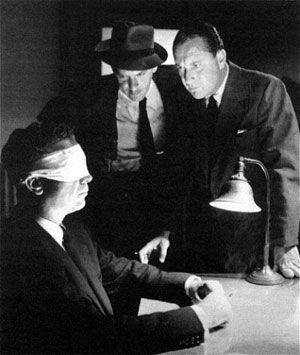 "Natalia Whaddyanova?" "I DON'T KNOW ANYTHING, I SWEAR!"
Suddenly the table is swarmed with paparazzi and clamouring journos - they're not there for Natalia, they've just spotted the ghost of Amy Winehouse.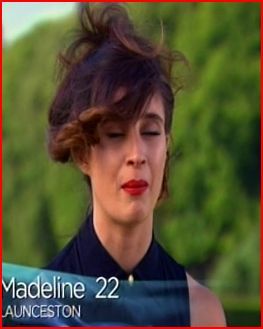 They tried to make her take her makeup off, she said no, no, no.
While six models not eating lunch together is fascinating viewing, I think I'll move on to the next bit which sees all the modelettes rocking up to a chateau in varying degrees of bogan-ness (boganity?) for a couture photo shoot with Jezza, whose shiny red chest enters the room before he does.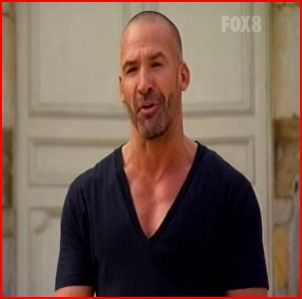 "Yes, I do like Babybel cheese, why do you ask?"
Chateau couture photo shoot in a nutshell:
Cassy gets thrown into a Galliano "conture" gown and gets momentarily confused because it's not Gucci or Supre, the only two designers she knows.



Lucky for Izzy, the one dress in the world that matches her bright pink and blue hair hasn't yet been burned by people who value their retinas, so she can wear it in her shoot. Phew.



One of the modelettes upsets the fashion gods by taking Chanel's name in vain, and is immediately punished by being turned into a unicorn:




On the plus side, she can now grant wishes!




Not to be outdone, this girl turns herself into popular children's book character Grug:




Talented thing!




But today's fancy dress prize goes to Caroline, whose Amy Winehouse impression is way better than Madeline's:




Take THAT.
"There's four girls going home, and there's like, 20 of us so that's like, one fifth of the competition," says one modelette one milisecond before her brain explodes from overclocking.
Next thing you know they're all back in the land of Oz and fronting up at the elimination warehouse, where unused models get thrown into compactors and turned into IKEA furniture pieces.
We better move quick, because The Shiralee is being slowly devoured by a floral outfit.
DRESS - HUNGRYYYY.
On to the picture bitch:
Jess looks like what Sarah Murdoch would look like if she'd had both legs broken with a sledgehammer half way through turning into a unicorn.




"Help. Meeeee."




For reasons that are unexplained, we get to watch Caroline walk the entire 5km catwalk from the back of the warehouse to the judges' table in complete silence, while Pezza and Dawson stare at her in ways that suggest she may have just farted in both of their handbags. No one says a thing about this.



Izzy looks amazing. IZZY FTW.



Madeline looks gorgeous. MADELINE FTW.
In the end it comes down to four - I'd name them but I've already forgotten who they are. They're all kicked out the door of the warehouse in the final few seconds before The Shiralee's floral dress consumes her completely, and Jez and Pezza have to take to it with scissors to rescue her.
Join me next week, when I attempt to answer the question:
Vol 2 out now!
---
GO BACK AND READ
episode 1
... OR GO FORTH AND READ
episode 3