As regular readers of the BC will know, last week I moved to New York.

(Sorry, I couldn't find a way to share that nugget of information without sounding like I expected a high five or some sort of award, so I just came out and said it. Don't click away in disgust, you'll see it's kind of pertinent to the rest of the column.)

Having lived in the USA for all of two weeks I can confidently say there are some things Americans do really well, and other things that have me hankering for the nearest Qantas flight back to blighty.

For instance, Americans are brilliant at shopping. Their population is so great, all clothes come in at least 20 sizes ensuring you'll find the perfect fit, and everything's on sale ALL the time. Not only that, when you've found a Michael Kors top reduced from $110 to $70, a shop assistant will then thrust a SPECIAL VIP DISCOUNT TODAY card in your hand and it will come down to $5.99.

Plus, American clothing shops let you take as many items into the fitting rooms as you like. Having been trained in the Australian "Don't even think about taking more than six items into that cubicle with the broken door and no mirror, missy" retail model, this was a revelation. (PS: Australian retailers, wake up – if you let people try on more, they will probably buy more.)

Americans are also very good at fresh produce. My local supermarket has more varieties of salad than one person could manage in a lifetime, and you can buy a punnet of blueberries for $2. Not to mention bananas at 99 cents a pound. (How much are bananas in Australia these days? Are they still $50 each? Sorry about that.)

But cheap bananas and discount designer duds will only get you so far. One day, you're going to want a latte. And that's when you'll discover the one thing they do very badly in this country. Coffee.

Wander into any cafe or deli in Australia and order a coffee and I reckon 90 per cent of the time you'll get an espresso, lovingly steamed out of an Italian machine, milk warmed and frothed.

Do the same in America and you're most likely to receive a cup of scary brown water that came out of a dripolator at some point in the morning and has been sitting in a glass pot on a hotplate for the last seven hours. Yes, a dripolator. Australia disposed of them in the 70s – I think they all migrated here.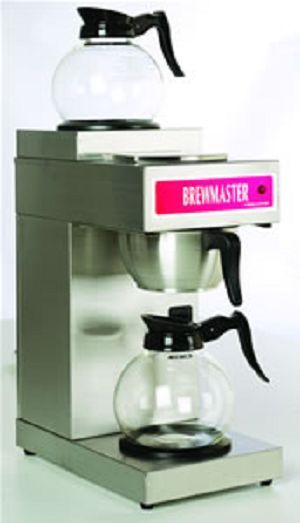 Satan's coffeepot.

This is the standard American coffee which you will get everywhere unless you remember to specifically ask for an espresso. Many an Australian has been caught in the following trap:


"Can I have a flat white please"
"Do you mean a white coffee?"
"Yes, I suppose so."
ENTER DRIPOLATOR SWILL WITH MILK.

Seriously, if this is the crap Central Perk was serving up to Joey, Chandler, Rachel, Monica, Ross and Phoebe in every episode it's amazing any of them stayed Friends long enough to make a series. Coffee of the type served in most American cafes is more likely to create enemies.

Sadly, ordering an espresso is not a guarantee of a decent coffee either. Of the six cafes I have tried in New York so far – all of which proudly displayed a big shiny machine complete with "barista" and walls full of packets of organic, hand-harvested beans - only one has produced a coffee like what I'm used to at home. It's like they've all imported these fancy espresso machines and forgot to read the instruction manuals.

Weirdly though, Americans love this stuff. There are coffee shops on every corner, and you can't walk two metres without seeing a local striding along clutching a paper cup. I feel like the little boy in The Emperor's New Clothes – one day I'll leap out into the street and shout "PUMPKIN SPICED LATTE IS NOT PROPER COFFEE!" and the spell will suddenly be broken.

In the meantime, I plan to document every coffee I drink in this country, WITH PHOTOS, so you may be spared the pain of drinking heated up bilge water.

Want to read them? Click the "American Coffee" link below or in the category menu to the left - they'll all be grouped there, with more added regularly.

* An edited version of this article was first published in the Sunday Mail's Sunday liftout on September 18, 2011.