After a chair-grippingly thrilling fairly uneventful and actually quite dull 11 weeks Australia's Next Top Model is finally just eight hours away from meandering to its logical conclusion at the Sydney Opera House (ie: a live broadcast composed of 95% long pauses, 3% dramatic looks to camera and 2% fuck ups destined for YouTube).

Sadly being in another time zone I'm going to have to guess what happens during the finale via the various tweets and text messages I'll be getting from my drunk friends freeloading off the open bar at the after party, but I'm assuming that at about 8.30pm Sydney time I'll get a bunch of these: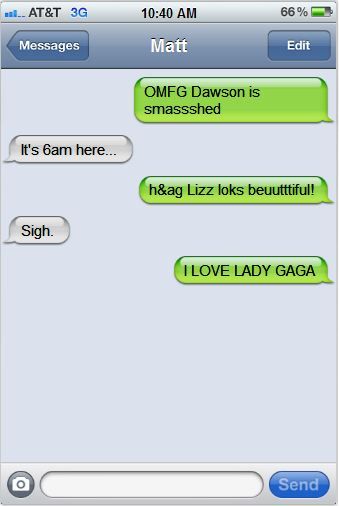 He really does love Lady Gaga.
While I'm waiting for the internet genies to upload the final episode to the webnet so I can download it and recap it approximately one week after everyone stopped giving a toss, I thought I'd take one last look at our final three who, according to this photo on the Fox 8 website, have obviously all been cast as the goblin king's harem in the sequel to 1980s classic film
Labyrinth
-
Labyrinth 2: The A-MAZE-ing Adventure!
"Have any of you guys seen David Bowie yet?"
The
Fox 8 website
features a video of each modelette explaining why you should vote for her to win, but as I am in
communist China
the United States, it won't let me watch any of them. So I've had to opt for actually READING their answers to probing questions like "what is your best attribute?" and "what websites do you visit daily?" (HINT: the answer is Facebook).
Final words on Lizimonetana in a nutshell:
Liz is asked who would play her in a movie and answers "Audrey Hepburn or Elizabeth Taylor".




So clearly Liz's biopic will be a zombie film.




Simone is asked the same question and answers "Marilyn Monroe or Brigitte Bardot".




I can feel a whole new sub-genre developing.




The modelettes are each asked what their most memorable moment from the show was. Simone can't be bothered answering, Liz says "Dubai" (which I guess must have been in last night's episode, unless I blacked out with boredom during the episode in which they visited Dubai) and Montana says "the time I burnt my hair off". Note that nobody says "Going to Paris". So, that was worth it then.




One of the ANTM producers checks the budget for next year's show.




Simone is asked "what can't you live without" and answers "air", suggesting she is either slightly amusing or takes things far too literally, but then demonstrates something of a lack of reading comprehension with the following:




How far can YOU take an opportunity?




Montana illustrates just how unmemorable she is by claiming everyone on set thought she resembled Keira Knightley.




No, they're thinking of RACHEL. Who are you again?
Well I hope that's helped you reach your decision, Australia. Don't vote for the wrong one, or you know what'll happen - they'll eventually be deposed, made foreign minister and the entire country will go to shit.
Check back here over the coming week and hopefully I'll have some sort of recap up soon.
---
GO BACK TO
episode 11
... GO FORWARD TO
episode 12