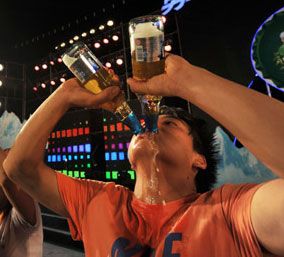 Well this is it. After 12 long weeks, two overseas trips (three if you count the one to Cockatoo Island) numerous tantrums and countless crying fits (mostly by me), we will finally call time on Australia's Next Top Model season 7.

But not before an hour filled with awkward pauses, badly scripted jokes and footage you've already seen. BECAUSE IT'S THE OH-MOY-GOURD-AMAZING-OFFICIAL-ANTM-LIVE-FINALE!!!!!11!!!1 *

*NOTE: May not actually be live any more.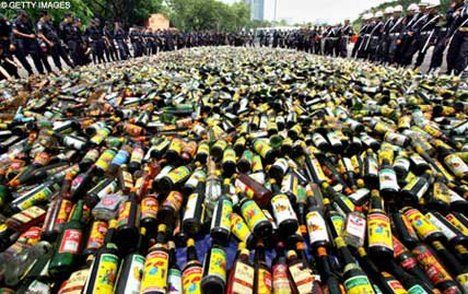 I have my beverages ready for the ANTM drinking game I will inevitably create about five minutes in.
This year's finale is extra special (yes, even more special than last year's when
The Shiralee created an international incident
) because it's being held at the Sydney Opera House. And look, all of Simon(e)'s fans have turned up to support her!
Isn't that sweet?
OK, here we go, the opening segment has started. While The Shiralee blabs on about how great a season it was (it wasn't) and how the challenges were so much tougher this year (they weren't) over some 12-week-old footage of various girls with bad haircuts walking around in shopping centres, let's go through the rules of the ANTM drinking game.
1. As ever, standing rule - whenever anyone says "amazing", DRINK.

2. Whenever anyone says "expensive", DRINK.

3. Whenever anyone craps on about "pressure" or "stress", DRINK.

4. When anyone says "make or break", DRINK.

5. Whenever the camera cuts to someone in the audience looking uncomfortable DRINK.
Somehow they manage to make the season highlights reel last more than four seconds, which is a nice surprise for everyone, and then we cut to Bros who is standing in front of more screaming teenagers than he's seen since
When Will I Be Famous
came out in 1987.
After being absent for about 32 episodes he's returned to interview celebrities on the official ANTM red carpet. Sadly none turn up, so he's stuck talking to former contestants instead, like Annaliese, who has to make her interview quick as she's slowly being strangled by a giant red bow:
That woman in the background doesn't know it yet, but it's coming for her next.
And Madeline, who had to swim to the Opera House after a freak boating accident in Sydney Harbour: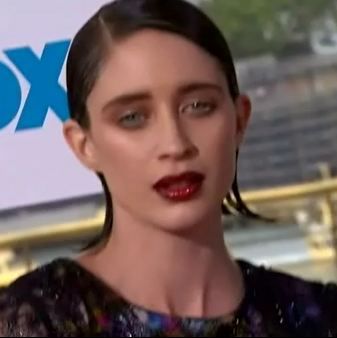 Frankly it's a miracle she made it at all.
And Neo, who thankfully has given up her slick, shaved look for a classy hairpiece from Wigs 4 U in Kilburn: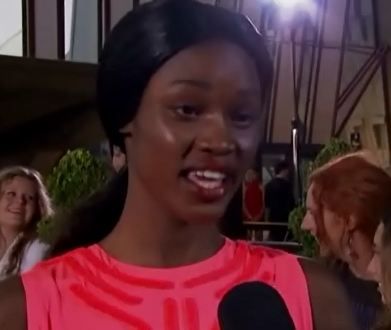 Much better, I think you'll agree.
And also this guy, who thought he was going to the 8pm performance of Phantom of the Opera but got the wrong day:
Oops.
Suddenly a Des's Minicab pulls up and out rolls Pezza, Dawson and her two personal assistants, fresh from Dawson's plastic surgeon where they were all surgically attached in order to save on tux rental.
It was expensive.
Meanwhile, ANTM is obviously more popular among the 8 to 12 male demographic than I realised:
"RACHEL YOU IS BANGIN'!"
And then our final three turn up, and what a stellar group they are. They were all so memorable in the show, weren't they? I mean who could forget Montana's magical transformation in episode five?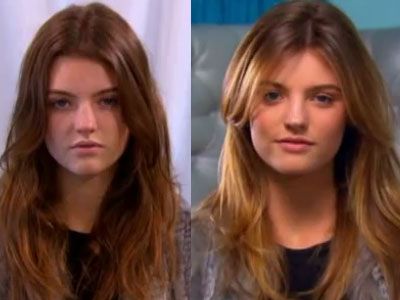 I barely recognise her anymore.
Or Liz's stunning Chicken Tonight advertisement from episode four?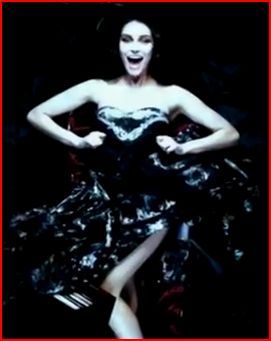 Chicken Tonight: Halloween Edition.
Or Simone(e)'s touching rendition of the monologue from
The Elephant Man
in episode eight?
Winner.
It truly will be a hard task to pick a winner. No really, they all suck a bit. Can we just not have a winner this year? We can't? Bugger.
After all of this red carpet fun we're swept into the Opera House where a booming voice announces "THIS IS THE FINAL OF AUSTRALIA'S NEXT TOP MODEL!" and everyone screams with excitement... for about three seconds.
After which everyone sits in total silence watching a ponderous slideshow of past contestants' baby photos set to a creepy rendition of
Que Sera Sera
which, all together, is uncannily like the "Hollywood Remembers" section of the Oscars when they commemorate dead people.
Way to rev up a crowd, producers. Honestly, I've never seen anything creepier. The only way they could have made it more uncomfortable is if they'd wheeled out Hannibal Lecter to sing backing vocals.
With glacial speed, the screen lifts up to reveal all the eliminated models you no longer care about. Clearly the audience doesn't, as no one cheers for at least five seconds. I think they're too afraid to.
The modelettes pull a few awkward poses, then do an awkward runway walk. Obviously Amelia couldn't find a handbag to match her outfit so had to carry all her stuff in her pockets:
Quelle embarrassment.
Fearing possible retaliation from the Say No To Imitation Keira Knightleys Action Group, Rachel dons a plastic Hazmat suit for her runway walk:
Fortunately that group only has one member, and his parole officer wouldn't let him out tonight.
And then there's our final three, who step out on the catwalk looking like something cleaned off the floor at Studio 54 after "Free Drink Friday".
First rule of fashion: you save on materials when you buy in bulk.
"Welcome to the live finale of what has been a most amazing season," says The Shiralee.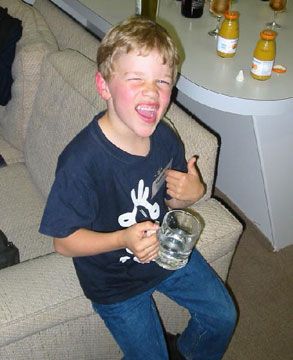 You know what to do.
The Shiralee introduces Dawson and "the expensive Alex Perry" (DRINK!) and then asks Alex how "expensive" the finale is.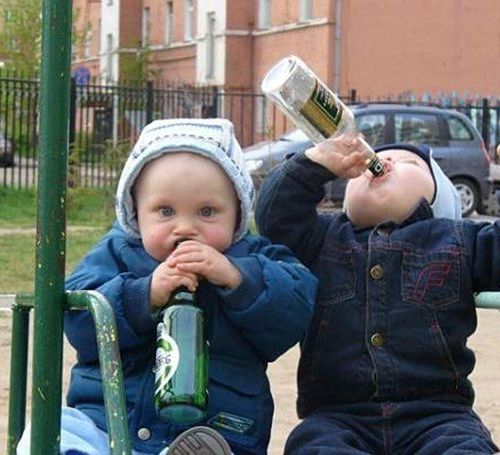 Make it a double!
"On a scale of one to 10 this is like an 11 in expensiveness," exclaims Pezza.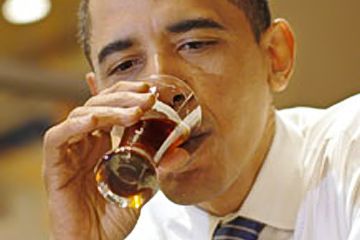 Yes, you can!
"We took 20 girls to the most expensive fashion capital in the world... I just don't know how it could get any more expensive," he continues.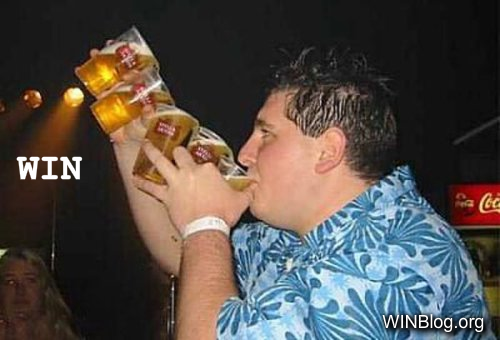 You know what? Just do this.
Dawson announces she feels "teary", which surprises everyone as repeated Botox injections are supposed to NUMB feeling in the eyes.
"We knew the final 16 could all be top models and having AMAZING careers," she continues.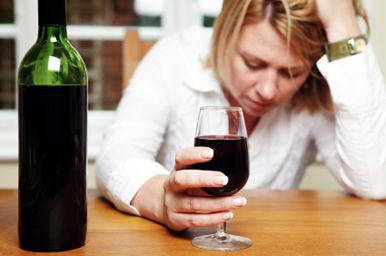 I'm afraid so.
The Shiralee reminds us all the winner has been chosen by the audience, an announcement that Dawson and Pezza take with grace.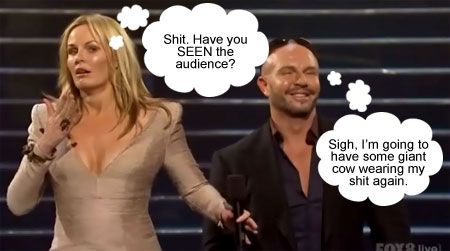 I'm fairly sure this is what they were thinking.
Simon(e), Monotona and Liz stride out on stage, each dressed as a different brand of toothpaste in support of Dental Hygiene Awareness Month.
Fresh Mint, Cool Gel and Triple Stripe. Sarah is gingivitis.
The Shiralee announces we're about to see the girls' final photo shoot for the Harpers Bazaar cover, in which they all wore "amazing dresses" (DRINK!).
See you there soon.
Harpers Bazaar photo shoot in a nutshell:
"So much pressure's put on you, it's pretty stressful," says Liz. Drink a double.



"I've just got to not let the pressure get to me," says Monotona. Drink. And if you're not unconscious yet, try to forget that what they're doing is putting on pretty clothes and standing still for a while; that will help prevent you getting annoyed at their constant talk of stress.



"I'm really nervous," Monotona tells the photographer, who scoffs and shrieks "Really? No need!". So, at least one of them is aware of how easy this gig actually is.



The Harpers editor claims the clothes "sing" on Montana, but fails to mention which song.




I think maybe this one.



"These are the people that make you or break you," says Liz of the Harpers crowd, before continuing "Being on the cover of any magazine would be AMAZING." Drink whatever you have left. And then probably pop down the bottle-o for some reinforcements, we still have half an hour to go.



Simon(e) pairs Armani with Havaianas, instantly invents new fashion subculture - Boganista.




"Oym jist garn darn the shops, youse want anyfink?"




"There's a lot riding on the Harpers shoot because the winner's going to be on the cover, so you have to do a good job," says Simon(e), just in case you've forgotten the whole point of the entire series.



"Today we are making an AMAZING iconic cover, the PRESSURE on the girls is enormous," says Harpers' fashion editor Claudia Navone. Except she says it with such a thick accent, I'll allow those of you who want to avoid a trip to the emergency room to skip these drinks.



Liz reveals that Simon(e) is late to the shoot because "she's doing her HSC".




Meanwhile, over in the examination hall...




Simon(e) turns up in her school uniform and immediately changes into Valentino for the shoot, which basically makes me want to punch myself and never look at a fashion magazine ever again. DOES ANYBODY ELSE SEE HOW RIDICULOUS IT IS TO PUT A TEENAGE GIRL IN THESE CLOTHES FOR WOMEN? DRINK!



And finally, DRINK.




"Oh great, now everyone knows I'm here."
Back on stage The Shiralee leads us through two and a half minutes of excruciatingly dull conversation with our final three which, if you missed it, is very easy to recreate at home. Write the words "like", "yeah", "amazing", "um" and "model" on slips of paper and pull them randomly out of hat while intermittently giggling and smiling like a retarded five year old. VOILA, your very own DIY finale.
It's almost time to announce the loser, but first - IT'S TIME FOR THE FINAL PICTURE BITCH.
"The talent on the front cover needs to be able to connect with the reader, they have to be able to say 'come and buy me'," says the Harpers editor.




I think this says "Discounted - $7.99".




Meanwhile Liz looks like someone's sprinkled Nutrog on her boobs while she was sleeping and she's woken up with her very own secret garden.




Brings new meaning to having a rosy complexion.




Simon(e)'s cover shot looks less like Harpers Bazaar and more like Stoner Monthly:




OUT NOW, INCLUDING: 150 ways to boost your crop, Busty Bud Babes, and 10 Major Munchie recipes.




And Montana looks great. Again.
Back on stage it's time to announce who's going home. HINT: It's not Montana. HINT: It's Simone.
Cue applause, cue montage. Meanwhile,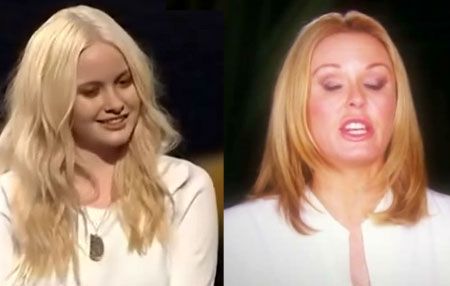 Simone, take a look at your future.
The Shiralee says something else involving the word "amazing" (drink 'em if you still got 'em) and announces that Short Stack will perform their new song. QUICK!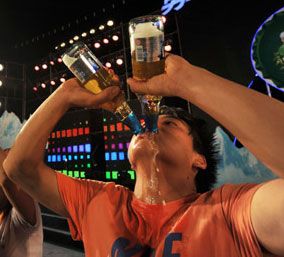 You're going to need this.
"I know Simone is going to have an AMAZING career," screeches Dawson from the balcony.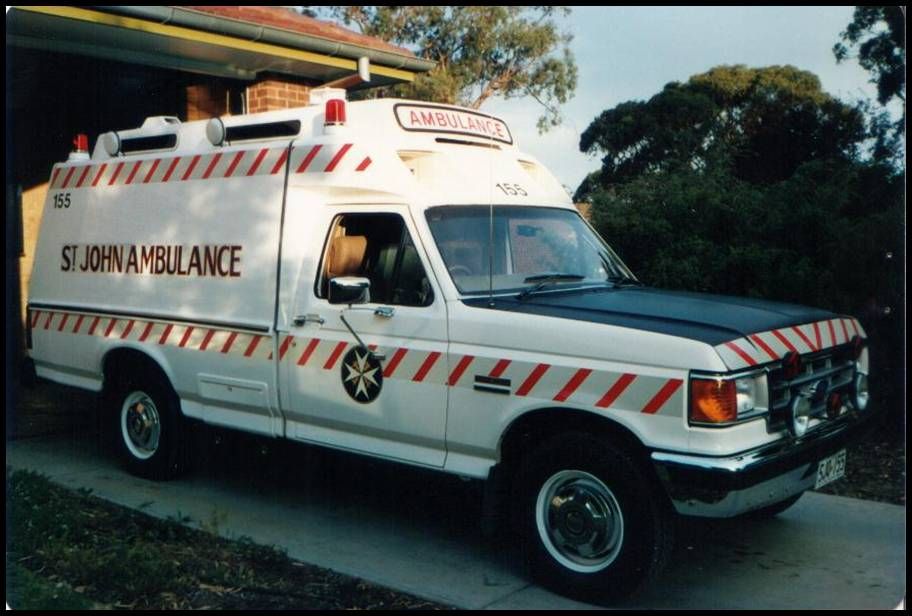 Meanwhile, out the front of my house.
"But now we've got two incredibly hot contenders for the title," she continues.
We know, we can see them both.
Then The Shiralee introduces Short Stack to the stage, describing them as "the youngest band of their kind to ever perform at the Opera House". What kind is that, Sarah? The shit kind?
I don't know what Short Stack's performance was like because I have a fast forward button, but about half way through it looked like they were being attacked by ninjas so perhaps it wasn't as bad as I thought.
But suddenly: IT'S MONTANA AND LIZ, OUR FINAL TWO, in costume as extras from the forthcoming sequel to Kubrick's
Eyes Wide Shut
-
Legs Wide Open
.
It got a bit blue after this.
Even the singer from Short Stack is scared shitless.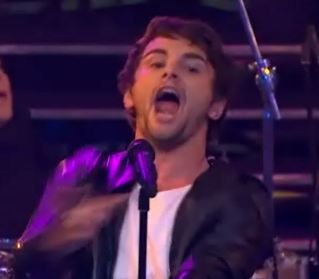 Try saying that after a dozen beers.
"WHAT AN AMAZING PERFORMANCE!" shouts The Shiralee.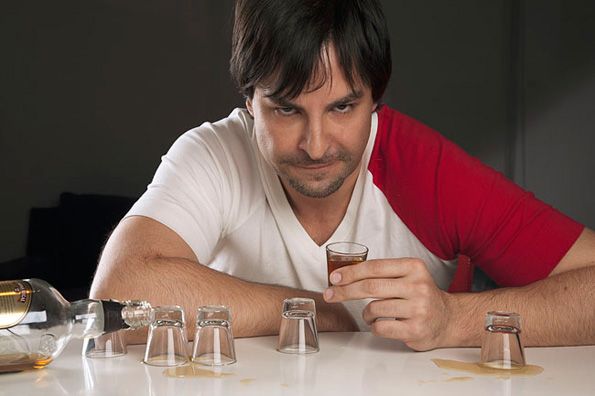 "ARE YOU F*CKING SERIOUS??!".
AND OH MY GOD NOW IT'S TIME FOR THE FINAL ANNOUNCEMENT! Right after a few more montages, which are entirely boring except for the following highlights:
"There was a moment when I hit rock bottom in the 1920s shoot," says Montana.




Remove the word "shoot" and Montana speaks for an entire generation.




Liz reveals her worst shoot in the competition was the one for the Sunday Magazine.




Um, you're not alone honey.
"Well the media have said it and so have our die-hard fans, this has been the best season of Australia's Next Top Model and undoubtedly the best girls ever," says The Shiralee.
WOO! EVERYONE SAYS IT'S THE BEST EVER! CAN I GET A WITNESS?
...
And at last, finally, thank god, we arrive at the final announcement, but not before a few more "amazings". If you're still reading this you're obviously not drunk enough yet so off you go. If you've passed out on your keyboard or are dead, I'm sorry.
"The Australian public has voted," says The Shiralee as keyboard cat cracks its knuckles in preparation for a 2010-style finish.
"The winner," she says, as I go to the kitchen, make a cup of tea, read the front page of the New York Times and come back to the video.
"Of Australia's Next Top Model," she continues, as I defrag my hard drive, regrout the tiles in the bathroom, grow a Sequoia from seed, chop it down and carve a rocking chair out of it.
"Is," she ventures, as I kick back in my new rocking chair and wait for the sweet, sweet kiss of death.
Well, you read the news.
Any last words, Montana?
"It was such an amazing journey..."
Well that's me done.
---
GO BACK IN TIME TO
episode 12