We
last left our friends from West Beverly
in a bit of a cliffhanger, with Brenda stuck alone inside the Blue Iguana nightclub after being the only one to convince the bouncer that Minnesota drivers' licenses are issued in pencil.
Even though it's only 9pm, the club is pumping - although that might be because it appears to be hosting someone's wedding reception.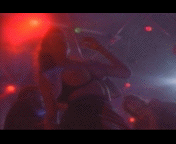 What? In Beverly Hills EVERYONE wears tuxedos to nightclubs.