New York's hottest new restaurant fad transports diners to the dark side.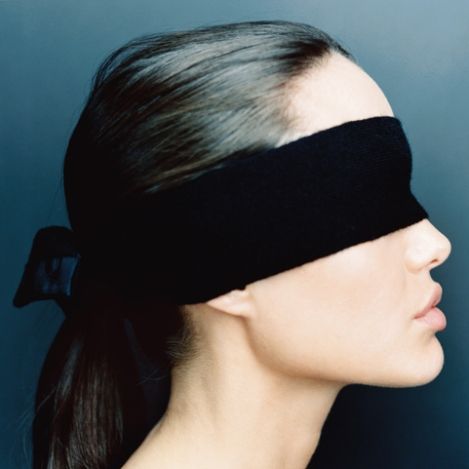 As soon as I walked through the door I was gasping for breath, my pulse racing, my hands shaking.

I felt like someone had wrapped a heavy cloak around my whole body and was pushing me down by the shoulders. I closed my eyes and tried to ignore the voices in my head begging me to turn around and walk back to safety.

I was totally freaking out - and I'd only been in the restaurant for 60 seconds.

Yes, a restaurant. I wasn't preparing to bungee jump or dive with sharks or tightrope across Niagara Falls, or anything even vaguely life threatening.

But I was experiencing the most intense darkness I've ever... er... NOT seen, at New York's hottest new fad restaurant "Dans Le Noir".

Rather ironically located four blocks south of Times Square, the neon light capital of the universe, Dans Le Noir is a restaurant in which patrons pay to "dine in the dark".

From the moment your waiter – or "guide" as they're referred to at DLN - leads you into the dining room you are in complete darkness. You can't see the other people on your communal table, you can't see your food, you certainly can't admire the décor, if there even is any. You can't even make out vague shapes of things.

You see nothing. At. All.


Rather like this.
Until this week I was able to say with some confidence that I was not afraid of the dark. Now I realise that's only because I never really knew what "the dark" was.
True darkness, of the sort you are forced into at Dans Le Noir, is oppressive and heavy and quite frightening. You feel a bit like you're being smothered, and it's difficult to breathe at first. When you close your eyes, there is no difference.
It's the closest I ever hope to come to being blind – which many of the restaurant's waiters actually are.
But after your brain finally accepts that it is still, in fact, working and that the body in which it resides is not in any mortal danger, you begin to relax and focus on enjoying your invisible food - which is supposedly the whole point of the thing.
Nightvision shot of diners being led to their table at Dans Le Noir, Paris.
In the absence of sight, you are told, your other senses are heightened so you may appreciate your meal in different ways.
With the menu kept secret until the end, you have to rely on your nose and tastebuds to determine what you're eating. And, I'm slightly ashamed to admit, your hands. (Well YOU try using a knife and fork with your eyes closed and see how far you get.)
You soon become aware how much you depend on your sight to determine the most basic things. I was surprised to discover what I thought was roast chicken was roast boar, and the cheese sauce I'd tasted was actually vanilla cream – mistakes I like to think I wouldn't have made if I'd seen the food.
At $79 a head it's a pretty costly undertaking – given you could possibly just eat with your hands in the dark at home for free.
But as our vision impaired guide led us, squinting, back out into the light-filled lobby I realised that as a reminder of how wonderful it is to be able to see, it was priceless.
---
This article was first published in the Adelaide City Messenger on June 27, 2012.