As the doctor said to the diphallia sufferer: two things are better than one thing, so this week you're getting a double header of recaps, thanks to the fact that I never got around to doing episode two on its own last week.


I could tell you I was kidnapped by aliens, or that I joined a rock band and we released a hit album and had to go on tour to support it, but the fact is I'm just a bit slack and couldn't be bothered.

As punishment, I have given myself a severe Lara Stone-ing.


MAXIMUM STRENGTH.
So - episode 2 now, episode 3 tomorrow.
When
we last left our modelettes
they had just been whittled down to 15 by judges DidHe?, Pezza, J-Haw and Dawson, the last two of whom have obviously vetoed any blondes from participating this year in an effort to reduce any potential threats to their employment.
Not. A single. Blonde.
After last week's thrilling overseas trip to Cockatoo Island the girls can hardly believe their luck when they're told they're all being flown to Thailand, particularly Dajana whose body spontaneously explodes with the excitement.
"My legs were on the ceiling!" she gasps.
Not an expression I'm familiar with. Must be a Queanbeyan thing.
They all get in an advertisement for an airline I have LITERALLY never heard of (Scoot? Anyone? Is this a Queanbeyan thing?) and minutes later are in the middle of a Thai street market.
"I was in New South Wales last week, and now I'm in Bangkok, that's just crazy," says the one with the nosering, who obviously eschewed Scoot to journey to Thailand by rowboat.
"For the first time, I actually felt like a top model," says Ashley, somewhat indignant that she's been forced to endure a whole 24 hours in the competition before feeling like a supermodel.
After marvelling at how all the street signs are written in Thai and how Bangkok is different from Australia, the girls are shuttled off to their first challenge, which one of them surmises might be taking place at "the Taj Mahal".
Ah yes, the beautiful Bangkok Taj Mahal. Right on the banks of the mighty Thai Ganges.
But sadly, instead of driving 60 hours to Uttar Pradesh, they just go to some Bangkok temple where they're made to dress in white smocks and minimal makeup and hang out with some monks to show how they "shine from the inside". They'll probably have a vegetarian dinner too because, like, Bangkok is heaps spiritual and that.
As part of this sojourn into enlightenment they're made to endure the mother of all boring lectures from some old fart, who tells them that their parents are like gods and they should respect them more.
The girls are, of course, enthralled.
"If I never heard that I probably would go home with the same respect, which wasn't barely any, for my mum, so it means a lot that he actually said those words to us," says one modelette, whose mum was no doubt thrilled to watch this episode with her.
"I thought of my mum, and then my horse. I miss my horse," says Taylor, completely missing the point.
Then they meditate for about, I dunno, seven hours, during which time I doze off and have a really great dream about playing guitar with Jack White, and just as he's staring into my eyes and saying "Wow, I never realised how attractive you are" I'm woken up by the sound of models shrieking. We go to an adbreak having seen nor done anything of interest in Thailand so far.
Time for challenge number two (if you count being spoken at by an old Thai bloke and then falling asleep to be challenge number one) which is to go shopping for cheap tat in the Bangkok markets - otherwise known as the "Australian tourist challenge".
To ensure they're unable to do any effective bargaining whatsoever they're dressed in expensive designer frocks and sent off with a wad of cash, and a film crew, as well as a flashing sign to wear on their heads that reads "DUMB, RICH TOURIST ON A TV SHOW, PLEASE OVERCHARGE".
First stop is the Platinum Market...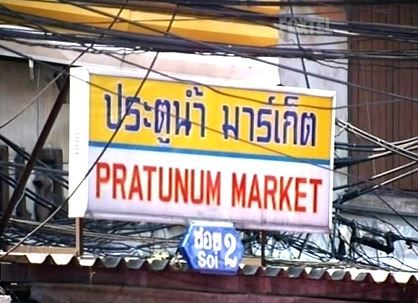 ...sorry, I think I pronounced that wrong...
...where they immediately start competing to see who can be the worst at calculating exchange rates.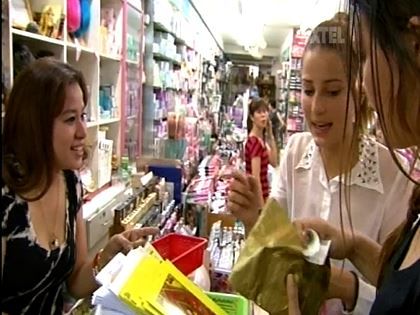 "A thousand baht - that's like, 50 cents, right?"
Despite the challenge being to buy accessories to suit a designer dress, Abbie's team buys a pair of sequinned hotpants. This is better than Jade's team however, which invests in a blue plastic digital watch that looks like it came out of a cereal box.
Well it does say "PRECISON TIMMING" on it...
As it turns out, the watch is the least of their problems, as they end up accessorising their model like this:
"Um... my eyeshadow hand slipped."
So awesomely fashion-forward is her look, she bursts out laughing, angering judge DidHe?
"I expect every model to try their hardest, why do you guys think this is funny?" he bellows.
Um, dude?
Don't worry Didn'tHe?, not everyone is laughing.
Right, Grumpy Cat girl?
One group wins, the other two don't, and we all move on to even more fascinating exploits in the Thai countryside, where the producers have managed to find the only mouth bigger than Dawson's for the first photoshoot.
The skin is slightly less wrinkled though.
The modelettes are haired and make-upped and told to portray a "chic, lost traveller" who happens to be doing something with an elephant.
In a nutshell:
Shanali hears "lost traveller" and goes for Burke and Wills on their 200th day in the desert.




"Water... please... give me water..."




Rhiannon manages to make it to the shoot on her way to a "Come as your favourite indie film star" fancy dress party, for which she is dressed as Maggie Gyllenhaal




"I am TOO as famous as my brother."




Jade is also going to the party, except she thought the theme was "Come as your favourite Spice Girl and/or character from 90s film The Craft"...




Sporty and/or Nancy, obviously.




Shanique gives a polished performance, which is ironic because her name sounds like a product you might use to clean wooden surfaces.
The costume party dress list grows even longer as April announces she too is going as Keira Knightley




SHE'S NOT INDIE.




Meanwhile, the elephant has not been used in a single picture.




"Am I too fat? It's because I'm too fat, isn't it?"
Having bought sequinned hotpants and stood in the vicinity of an elephant for an hour or two, the modelettes have done all there is to do in the great country of Thailand, so without further ado it's time to return home.
Except for one more bit of ado - elimination. So it's off to the elimination warehouse (which is either in Bangkok, or in a warehouse in the Foxtel back lots that someone's dressed up with "oriental" decor in order to make it look like they're in Bangkok), where one model will be separated from the herd, stripped of their market accessories and fed to the King's elephants.
IT'S PICTURE BITCH TIME.
"I hate this shot so badly I can barely contain myself," says Pezza of Rhiannon's photo, in which she has dared to put her hand in her pocket, something no model has apparently ever done since 1978.




A hatred for pockets is why giant handbags are so popular now.




Shanique's photo looks less "chic, lost traveller" and more "morning after in Bali". Unsurprisingly, this is not what the judges were going for.
Jade obviously put the remainder of that 1500 baht from the shopping challenge to good use, buying some iron-in hair extensions at the Pratinum Market.




Seriously, where did all of this come from?




Dajana's shot doesn't say "buy me" as much as it says "buy me, motherfucker, or I'll punch you".




An effective sales pitch.




"It looks like you've been sitting unsuccessfully on the toilet for about an hour," says Dawson of Shannon's photo, leaving me confused as to whether she liked it or not.
A group of legs and teeth get put through to the next round, and suddenly there's only two girls left: Shanique the furniture polish and Shannon the toilet sitter.
In a lovely bit of alliteration, Shannon and Shanique are both shit, so one of them has to go - and this time it's Shanique, even though Shannon was wearing a giant plastic hair clip the entire time.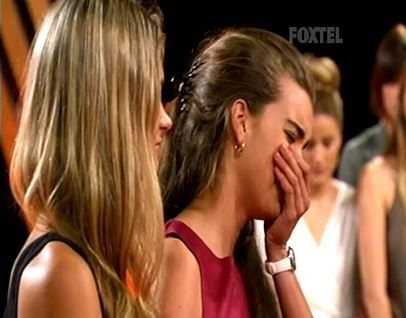 Well, the 80s ARE back....
So we say goodbye to Shanique, who is shuffled out the door and sent off to work chipping rocks out of Hellfire Pass in an hourly tourist re-enactment of the building of the Thai-Burma railway. She'll enjoy that.

Join me tomorrow when I belatedly bring you episode 3 and... what's that, Didn'tHe?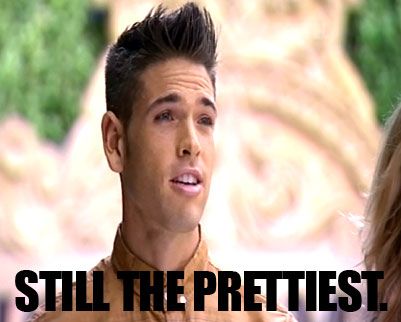 True dat.
Go back in time and read EPISODE 1 ... or go on and read EPISODE 3