If you're like me you've been weathering the empty days and nights since RuPaul's Drag Race finished last week by wrapping yourself in sequins and rocking back and forth in the corner of the room chanting "COME ON, NATCH" over and over.

You also may have been comforting yourself by staring endlessly at this GIF I made for my recap of the show's finale showing an audience member in "the most spectacular sequinned jumper the world has ever seen":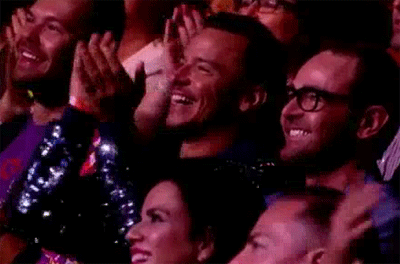 With every handclap he blinds a thousand angels.
Well imagine my surprise this morning when I received an email from none other than SAID SEQUINNED MAN. His name is John, he found my blog, and loved my animated tribute to his sartorial superiority.
He says the jumper is actually a jacket - or actually, even better, a hoodie - and his fabulous designer friend at Slick It Up New York made it. But guess what?
IT'S FOR SALE, AND
YOU CAN BUY IT RIGHT HERE
!!
I'd like to think John was wearing this exact ensemble to the Drag Race finale.
Also for sale by this incredible designer:
SEQUINNED BOARD SHORTS
and
THE MOST AMAZING SEQUINNED JUMPSUIT YOU'VE EVER SEEN
.
Clearly if you don't buy all of this stuff immediately you are beyond help. To the intelligent ones of you currently scrambling for your credit cards: you're welcome.