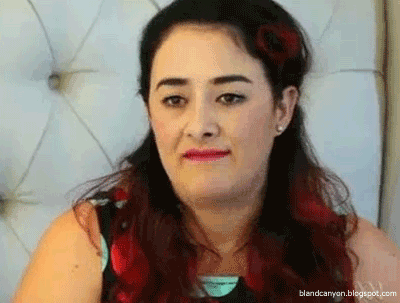 In
episode one
we met our six daters. Now in episode two we're going to meet one of the ways they will date - Tinder.
In case you've been living in some wonderful utopia where mainstream media doesn't report on technology like it's the 1950s and you
haven't
heard
all
about
Tinder
every
day
for
the
past
year
, Tinder is a smartphone app that singles use to hook up with other singles.
You create a profile with some pictures of yourself and a bio, and other singles check you out and indicate if they like you by swiping their finger over your face - just like dating in real life (but a bit more sanitary). If you both swipe each other you're a match, and you can contact each other to arrange a date.
Or, as is more often the case, you can contact each other to say charming things like "R U HORNY?" or "DTF?"
"...and then he was like 'WANNA F***?' - oh Donna, I think I've found the one!"
It turns out Aussie
John
is the only one of the bunch without Tinder (what does he use his phone for? Talking on?), so
Burgo
and
Sooz
decide to hook him up with the hook up app.
Burgo
is a Tinder veteran, although admits he doesn't always follow through with the "matches" the app gives him.
"I feel I should look under every rock," he says.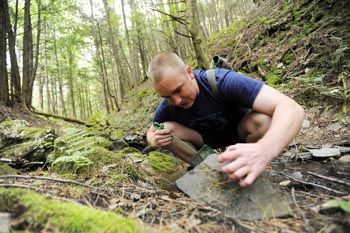 "Hey everyone, I found someone who hasn't heard of Tinder!"
Given
Burgo
is apparently looking for a girlfriend under rocks, it's perhaps no surprise that the advice he gives to
John
about his Tinder profile photos is completely crap.
In order to entice hot lady singles
John
has opted to depict himself a) holding someone else's baby, b) standing with a bunch of random blokes in front of the Opera House on what looks like a boozy boys' weekend away and c) jumping in the air so far away from the camera he might as well be a lens fault. Oh and also d) as a sign on a wall reading "St John's Chapel".
Burgo
thinks this is fine.
Sooz
is not impressed.
"We don't like photos of inanimate objects, so don't put a photo up of your car or your motorbike," she says.
"Also: don't put group shots. Don't put a picture with your baby. Don't put this photo up which is you like, 2km away in the distance."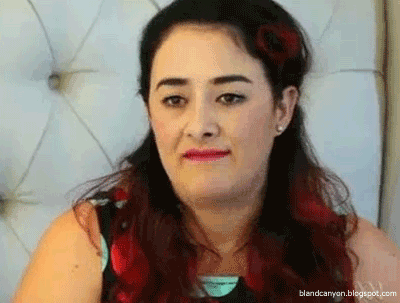 LISTEN TO THE SOOZ.
I'm with
Sooz
. What the hell is wrong with men when it comes to online dating photos? I wrote these
Online Dating Tips for Boys
in 2005 and they're all still accurate.
But apparently when you're Hot
John
none of that matters, because within minutes of putting up his Tinder profile he has a match with a girl called Eirin.
"Write 'Hi Erin, how's your night going?'," suggests
Sooz
.
"Perfect," says
Burgo
.
"Shall I compare thee to a summer's day?..."
"How is your night going?"
FAMOUS FIRST DRAFTS.
As it turns out, John spells Eirin's name wrong, which doesn't augur well for any future romance between them. Not that John cares. As he puts it:
"I'll be honest, I would only be looking to date to... yeah... to... I spose... you know... 'get amongst it' to er, you know... put it in nice terms, but yeah... I'm certainly not dating to... find... 'love'..."
YOU'RE LOOKING FOR A QUICK ROOT,
JOHN
, WE GET IT.
Also, just a tip: "get amongst it" is not "putting it in nice terms".
"We all want love, but the good kind of love, not the bad kind of love. Because the bad kind of love is just NOT fun," muses
Burgo
.
What about a groovy kind of love, Burgo? Is that OK?
"I don't think I've ever experienced it. That's the honest to god truth - I don't think I've ever been in love," says
Sooz
.
Her chances of that happening reduce significantly after she gives her phone to
Burgo
, who swipes some bloke she's not at all interested in (he probably has a picture of a car or a baby on his profile). Rule one: friends don't let friends swipe their Tinder.
Later on, on her diary cam,
Sooz
confesses Tinder isn't all it's cracked up to be.
"I talk to guys for ages and we're being funny and flirty and then conversation stops. I don't really think Tinder is for me," she says.
"I'm finding the whole process of really putting myself out there exhausting."
Oh that's good
Sooz
, because it's only, what - EPISODE TWO.
Burgo
, meanwhile, is having better luck - he's off on a date with "lovely little Lil". I desperately hope that is her actual name, and that she is a cowgirl who lassoos steer at expos or something.
Burgo
puts on his best crumpled shirt from his bedroom floor, gives his chin stubble a good swipe with his cleanest hand, and sets off in the car for his hot date with the cowgirl. Things are looking up - what could possibly go wrong?
Oh, probably nothing.
Will
Sooz
ditch Tinder? Will
John
spell Eirin's name right? Will ANYONE spell Eirin's name right? Will
Burgo
's car crash be more fun than his date?
Go ahead and
READ EPISODE THREE
where I answer all these questions* and more, or go back in time and
READ EPISODE ONE
again.
*I probably won't.