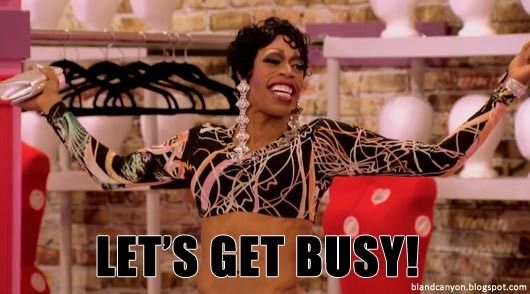 "I HOPE YOU GIRLS GOT A SWEET TOOTH, COS
KANDY
'S IN THE MUTHA F**KIN HOUSE," shouts the Real Doll, aka Puerto Rican queen
Kandy Ho:
Not to be outdone in the robotic stakes, in rolls Brooklyn queen
Pearl
, who looks like C3PO's BDSM mistress:
Next up is
Kennedy Davenport
, "the dancing diva of Texas". Apparently she's famous.
Moving right along to
Sasha Belle
of Iowa, aka the evil love spawn of Drew Barrymore and Kathy Griffin.
Sasha
has apparently been "mentally preparing for years" to be on Drag Race by memorising all the past queens and challenges. Bitch, this isn't Jeopardy. You won't win because you remember
Bebe Zahara Benet
.
"WHO'S READY FOR SOME HOT TUNA CASSEROLE, COS MAMA'S HOME," shouts newcomer
Tempest DuJour
, spreading her legs and dropping a plastic baby onto the floor in what instantly becomes the most off putting sequence ever aired on Drag Race, even including on
Willam
's season.
Tempest
is 46 and looks like
Magnolia Crawford
's mother. So... Good luck,
Tempest
.
Suddenly a siren blares, followed by what sounds like a person being strangled while eating a KFC Double Down, letting everyone know that an asexual and non gender specific mail has arrived!
The queens quickly gather around the TV to hear their lord and saviour
RuPaul
explain their first challenge... but it seems she's gone a little too far with the Botox this time:
Ru
baby asks.
"Then you better Sissy That Walk, girl, cos you're Born Naked and the rest is Balenciaga!"
Suddenly a cold wind blows through the studio, and the walls begin to shake as a low rumbling sound emanates from the floor. The two spiders on
Trixie
's face make a break for it, leaving her temporarily blinded as her retinas react to light for the first time, while
Miss Fame
rams her spiked headdress into the nearest makeup table for support.
The door at the top of the stairs slowly creaks open to reveal...
"Everything you think you know about
RuPaul
's Drag Race is about to change," announces
RuPaul
which, as previous experience would dictate, probably means there'll be one less table in the Werq Room, or they'll all have to share one pair of scissors, or something equally as exciting as that.
"Your first challenge isn't just a photo shoot - IT'S A FASHION WEEK EXTRAVAGANZA!" he says.
Apparently the queens will have to model two fashion looks for Spring and "Fall" (I think he means Autumn) on a runway, which is totally different from the runway they usually do at the end of each episode because... Look, I dunno, let's blame
Michelle Visage
again for some reason.
Holy Six Pack, what do you think of this development?
He then explains the prizes they're all competing for, which this year include a half used can of Taft, a packet of Salada biscuits (expiry December 2013) and a 50 per cent off coupon for Party City, before hustling them all away to the runway that's slightly different from the other runway for their first challenge.
FIRST CHALLENGE IN A NUTSHELL:
* Joining
RuPaul
and
La Visage
in the front row are
Carson Kressley
, who was last famous in 2003 and therefore most likely to be the target of a confused hashtag during the airing of this show, Holy Trinity member
Alaska Thunderfuck
serving Anna Wintour realness, and the former supreme leader of Iran, Ayatollah Khomeini.
*
Katya
hears "spring fashion", comes as hungover
Willam
trapped in a Magic Eye puzzle:
*
Trixie Mattel
piles some lipgloss, eyeshadow, blush and housepaint on her open hands, smashes her face into it and walks out on the runway looking a whole couple 'o bucks:
* Meanwhile, I am interested to experience spring on
Jaidynn Diore Fierce
's home planet.
* Hey
Alaskan Winter
, how are you enjoying the show so far?
* UPDATE:
Max
is still my favourite.
Violet Chachki
does an impression of a blow up sex doll being swallowed by a python:
IT'S RUNWAY TIME!
BUT WE JUST DID A RUNWAY?
I KNOW, NOT THAT RUNWAY, THE OTHER ONE!
YOU MEAN THE MAIN RUNWAY?
YES!
OK COOL!