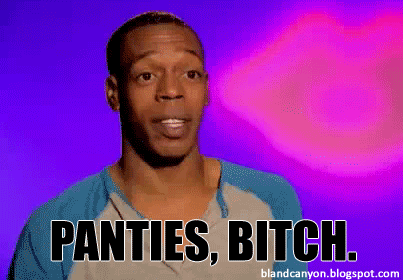 As usual we begin this week's episode in the Werq Room where everyone is mourning the loss of... wait, what was her name? The one who was kicked out last week. You know who I mean! The one with the... thing. Dammit, Holy Six Pack - you know who I mean!


[Insert name here] has left a message on the mirror for the other queens, reading "GING FOR THE WIN!", suggesting she may have been taking English lessons from
Kandy Ho
. Did she mean to write "going"? "Gagging"? Did she actually mean to write "I love you
RuPaul
!" but suffer a stroke half way through?
But then it becomes clear whoever it was meant "Ging" as short for "
Ginger
", something which gets
Kennedy Davenport
all riled up.
"Opinions are like assholes, everybody's got one," she snips, proving that she too may have been studying English with
Kandy Ho
.
Meanwhile
Jasmine Masters
is in the corner reciting her speech for the upcoming premiere of new TV show
RuPaul's Best Friends Race
, in which she has been cast as a mentor.
"
Trixie
,
Pearl
and that old tired ass long horse face
Violet
, them girls just rub my nerves out, they don't know shit about performing, all they want to do is talk and walk their asses in their f***ing heels and that's not drag. I don't like shit about them young hoes, not the air they breathe, not their bony-ass slim up and down poor bodies, I would love to send all them bitches home in one whomp, especially
Violet
- where your panties, girl? We don't want to see that Barbie doll mannequin ****."
In all fairness though:
Meanwhile: CAN EVERYBODY STOP SAYING "PANTIES"? EWWWWW.
Wavy lines, doobly doo music, more wavy lines... and it's the next day in the Werq Room where
Katya
is showing off her allegiance to
Jaidynn Diore Fierce
by sporting a T shirt with her face on it:
Wait, what do you mean that doesn't look like
Jaidynn
?
A siren blares, followed by what sounds like
RuPaul
being strangled by a pair of
Michelle Visage
's pantyhose - it must be Asexual and Non Gender Specific Mail time!
All the queens gather round in front of the giant piece of black plastic mounted on the wall that they've all agreed to pretend is a flat screen TV for budgetary reasons, while a producer reads
RuPaul
's lines from a script. (They'll just Photoshop
RuPaul
in later, like
Michelle Visage
does with her family photos every Christmas).
"To she or not to she, that is the question," reads the producer pretending to be
RuPaul
.
"All the world's a stage, but watch your back henny, because everybody's a critic."
"What is THAT about?" wonders
Jaidynn
.
Just as everyone is trying to explain to
Jaidynn
what a Shakespeare is, all the lights in the studio go off at once, accompanied by a loud booming noise.
Kandy Ho
is so frightened all her beard hair spontaneously falls out, while
Jasmine Masters
dives into a pile of wigs shouting "COCOON!"
A cold wind blows through the studio as the lights begin to flicker back on, when suddenly at the doorway is... it's... IT'S...
RuPaul
wheels around the room on his gopher (which makes a nice change from other weeks when he uses his beaver) declaring: "America's next drag superstar needs to have longevity, even after her charisma, uniqueness, nerve and talent gets old and dry and dusty."
"It's time to release your inner Golden Girl,"
RuPaul
continues.
RuPaul
announces that for today's mini challenge the queens will have 15 minutes to drag up as old ladies and dance, as some sort of promotion for the Pit Crew's new range of merkins:
GRANNY CHASER CHALLENGE IN A NUTSHELL:
*
Mrs Kasha Davis
looks... exactly like someone who would be called "Mrs Kasha Davis":
*
Pearl
looks like someone reanimated the corpse of Grandma Yetta from '90s sitcom
The Nanny
and wrapped her in tinfoil:
*
Trixie Mattel
looks like Stephen Hawking fell over a makeup counter and then went to the dentist:
*
Katya
looks like Weird Al Yankovic's mother:
*
Miss Fame
comes dressed as Raven in 50 years:
*
Jasmine Masters
comes as a Womble:
* And
Max
... I have no idea what
Max
is doing:
* Meanwhile Tyler Perry's new movie looks hilarious as usual:
Despite looking like Shirley Temple with a crack habit and Doc from
Back to the Future
in drag respectively,
Kennedy Davenport
and
Max
are declared the winners so get to pick their teams for the main challenge.
Then
RuPaul
says "jifs" again and everyone pretends not to notice, before going on to declare that the word "drag" originated with Shakespeare and was a theatrical direction noted in a script to signify "dressed as a girl". (This is, in fact, disputed, but let's not go there because I'm still dealing with the whole "jifs" disaster.)
He then announces the main challenge: staging "comedic adaptations of Shakespeare classics", "Romy and Juliet" and "Macbitch".
"I've never even seen the original, what is it? Macbeth?" says Team
Kennedy
member
Pearl
, who is a walking advertisement for America's education system.
"I don't even know what Macbeth is, honestly. Call me young, call me illiterate, whatever," she says.
If that wasn't enough to spell doom for the team,
Kennedy
has also assigned the role of the "ghetto girl" to
Violet Chachki
, who is about as ghetto as Paris Hilton's chihuahua.
Unsurprisingly this is the least successful bit of casting since whoever it was that decided Mickey Rooney looked Japanese, so
Kennedy
makes
Violet
switch roles with
Jasmine
, meaning she will now be playing the role of "Lady Macbitch".
Yes, there was a role called "Lady Macbitch" and
Violet
didn't automatically win it. I'm surprised too.
Will this late change result in an unmitigated mess on stage? We can only hope.
Things are a bit different over on Team
Max
, meanwhile.
"I've done Shakespeare plenty - and he liked it every time," cracks
Ginger Minj
.
Still,
Jaidynn
can't quite get the hang of "Capulet" and
Miss Fame
thinks "Montague" is pronounced "montage-oo", so let's not get too excited.
But enough of all this hot thespian action...
IT'S SHAKESQUEER TIME!
* Up first is Team
Max
with "Romy and Juliet" (they could have tried harder with that title, don't you think? "Romeo and Julian" would have been funnier, for a start. But far be it from me to tell them how to write jokes, I'm just a lowly blogger...) which gets off to a limp start with
Miss Fame
spewing about the "house of Capperus".
*
Jaidynn
flubs a line, complains about her lack of experience in acting.
* Sadly
Jaidynn
didn't get the memo that it's supposed to be a comedy, so she breaks into tears for a rendition of her own one-act Shakespearean tragedy entitled "What A Drag: The Story of Fierce":
* Fortunately
Max
is there to save the day by cheering her up again:
Kennedy
with "Macbitch", and
Violet
in the title role (naturally). With her giant ruff she looks rather like a murderous Pierrot doll. Or a murderous Barbie doll disappearing feet-first up the back end of a large mammal:
* Having forgotten all about the challenge,
Katya
drops in on her way to the opening night of her new play, an Elizabethan reworking of
Little Shop of Horrors
in which she plays the Queen:
* Having been relegated from the lead role to that of "ghetto bitch",
Jasmine Masters
has to deliver the rhyming couplet "Watch out sisters, I'm the real prima donna, head cheerleader's gonna be me: Laqueesha Kiana" and struggles so much she sounds like Missy Elliot after a stroke:
* Meanwhile
Pearl
has decided to adopt a bizarre accent for her role as narrator that makes her sound like
Max
on downers.
"Yeah, I don't think you should do that," says
RuPaul
.
Enough said.
* Everyone forgets their lines, costumes fall apart,
Pearl
walks into a fake tree - can Team
Kennedy
sink any lower?
* "In seven seasons of doing RuPaul's Drag Race I have never seen a car crash like this before," wails
RuPaul
.
Doobly doo music, wavy lines, more doobly doo music... and it's the next day in the Werq Room where everyone is preparing for the final runway in their usual meek and humble way.
"I know for a fact this dress that I'm wearing is the best gown that ever walked down the runway of Drag Race - EVER,"
Jasmine Masters
says, while simultaneously filling out her nomination form for the 2015 Humility and Grace Awards.
"I wouldn't be surprised if
Ru
got up right now and said 'bitch, just because of that gown girl, you're safe as f**k," she continues.
But it's not just
Jasmine
's technicolour dreamgown the others have to worry about, it's their "experience".
Ginger Minj
,
Mrs Kasha Davis
,
Jasmine
and
Kennedy Davenport
have formed what they call "the bitter old lady brigade" (which coincidentally is what Seduction were going to call their 2016 reunion tour) to bitch and moan about the young queens like
Pearl
,
Violet
and
Miss Fame.
"These young girls ain't been through nothing and girl, it's getting on a bitch's nerve," slags
Kennedy
.
"Everybody's talking about their 'aesthetic'. Please honey, find one."
"That
Violet
- tacky drag," sniffs
Jasmine
.
But enough of all this sartorial snarking, because...
IT'S RUNWAY TIME!
* And the category is: BEARDS, which seems a tad unfair given the strong advantage
Kandy Ho
already has...
* Meanwhile, thank you
RuPaul
for this challenge which is basically all of my twisted sexual fantasies come to life. What can I say, I have a thing for bearded men wearing make up.
In honour of this momentous occasion I shall be rating each of the queens on how much their gorgeous beard and makeup combos make me question my sexuality. If I emerge from this process requiring several months of therapy, I will have done my job properly.
* In what is both a quirky tribute to the theme and a desperate attempt to secure a financial sponsor,
RuPaul
has come dressed as this electric shaver:
* Of course
Michelle Visage
doesn't have to come in costume, because she's already
RuPaul
's beard.
* Also on the judges table is
Carson Kressley
who, due to budget cuts, is this week wearing a wardrobe sponsored entirely by the United American Pineapple Growers For Sustainable Gorilla Habitats Action Group (UAPGSGHAG):
Mel B
, aka
Scary Spice
aka the mother of "girl power" and the voice of a generation! Oh also for some reason
Kat Dennings
from that
racist TV show
2 Broke Girls
is there, so I hope she's not uncomfortable with all the black people around.
* First on the runway is
Max
who has opted to dress as Santa Claus auditioning for the role of the Marquis de Sade in the North Pole Amateur Dramatics Society's annual play:
PETSTARR'S TWISTED SEXUAL FANTASY HOTNESS RATING:
7/10.
* Next up is
Ginger Minj
, who answers everyone's questions about her name once and for all by wearing a black merkin on her face:
PETSTARR'S TWISTED SEXUAL FANTASY HOTNESS RATING:
3/10.
* Moving right along to
Trixie Mattel
, who looks like the benevolent god of whatever religion you'd get if Jesus and Zeus had a baby:
PETSTARR'S TWISTED SEXUAL FANTASY HOTNESS RATING:
7/10.
* Except then Jesus walks in on his way to prom and is all like "UH UH, HUNTY":
PETSTARR'S TWISTED SEXUAL FANTASY HOTNESS RATING:
9/10.
Jaidynn Diore Fierce
today's challenge has fallen on laundry day, so she's been forced to recycle her "fall" outfit from episode one:
PETSTARR'S TWISTED SEXUAL FANTASY HOTNESS RATING:
4/10.
IT'S SHAKESQUEER TIME!
YES, AGAIN!