So, last weekend I judged a drag queen competition with Michelle Visage.

Oh sorry, you didn't catch that? I'll repeat it: LAST WEEKEND I, PETSTARR, THE GIRL WHO SPENDS FAR TOO MANY HOURS OF HER LIFE RECAPPING RUPAUL'S DRAG RACE EVERY YEAR, JUDGED A DRAG QUEEN COMPETITION WITH MICHELLE VISAGE.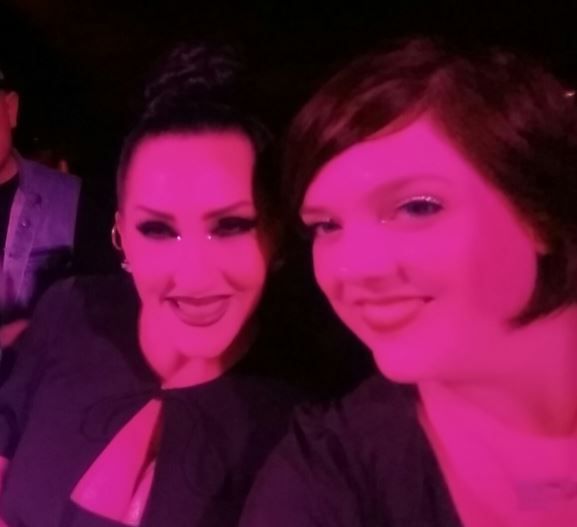 Here is Michelle Visage and I on the judging panel, which was conveniently situated on the surface of Mars.
And here we are trying out Instagram's great new filter, "Burns Victim".
I was asked to be a part of the Adelaide round of "Clash of the Queens" by
In The Dark Events
, the fabulous boys and girls who bring all the Ru Girls out to tour Australia (
follow them on Facebook
if you don't already).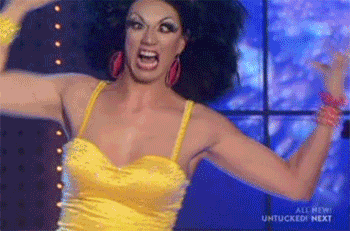 Actual footage of my reaction when I was asked to judge a drag queen competition with Michelle Visage.
My friend and I actually had dinner with Michelle the night before the competition. Well, WE had dinner, she took Snapchats and stared at her empty plate. (She's a gluten-free tee-totalling vegan who doesn't eat soy or tomatoes and possibly only lives on oxygen and sequins, so you know, finding a restaurant that could accommodate her was a bit of a challenge.)
What's she like?
Well, she has FANTASTIC SKIN. I mean, seriously, flawless. If this is what happens when you stop eating literally everything then I'm on board. (Oh look, pizza!) (Fuck.)
She is small. She is funny. She has bad-ass dress sense. To dinner she wore boyfriend jeans, hair swept back with a bandana and a fur coat (it was 26C), with giant Swarovski crystal encrusted teddy bear earrings.
To the drag show she wore... well, here she is: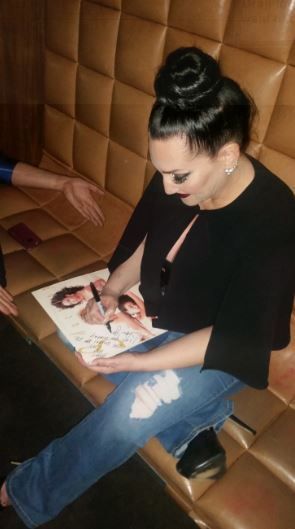 Because my friend and I are super professional, we brought along a Seduction album for Michelle to sign.
She pretended to be thrilled.
I'd also like to point out that both she and I wore matching facial diamante stick-ons. Obviously this makes us BFFs now.
She and I agreed on almost everything at the drag judging panel, so I (sadly) didn't get any side-eye or finger waves.
She did however throw some shade at Courtney Act, telling one queen: "You could teach Courtney Act a thing or two". Pretty sure it was meant less as a compliment to the contestant and more as a slight on Courtney, tbh.
We unanimously agreed the winner was Berri Juicy (check her out
on Facebook
) who did a bangin' lip sync to Nicki Minaj where her boob popped out. Fierce.
And here's the photo I took at the end of the night when I was a bit drunk because I liked my makeup and didn't want to take it off.
Meanwhile, RuPaul's Drag Race Season 8 starts on Monday, and I'll be recapping it as usual!
So you'd best go back and read my Season 7 recaps to get yourself in the mood. Start right here with
EPISODE 1
.